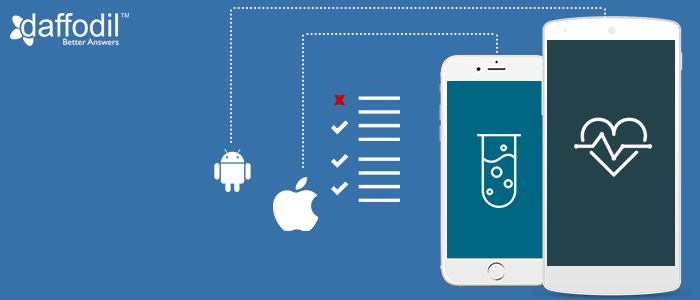 In the dawn of a technological era, mobile apps for medical and health care is no out-of-the-blue concept. From physicians to patients to clinics, these apps are embraced for diagnosis, monitoring, treatment, and delivery of care. Considering the upsurge of smartphones and consumer interest in improving their health, there is a consequential opportunity to present mHealth solutions in more innovative ways. While development has got huge dependency upon the technologies available, half the job is done when framing the medical app development idea.
In the phase of idea formulation, it is important to count the possibility of execution, which may revolve around data usage, storage, confidentiality, risks, legality etc. Google Play Store and Apple App Store have some defined regulations to turn an idea into a reality, which therefore gives a level playing field to both the ends.
So, if a unique healthcare app development idea is on your mind, this guide is meant for you. From what is possible and what not, here is a list of some crucial facts that must be taken into consideration before you get down for outsourcing your app development. Let's get started and figure out if your proposal can reserve a space in the mHealth industry.
For App Store
Apple has always been a pain point for developers. To ensure that an app covers up 360 degree benefits, it is scrutinized for every minute factor. So, if there is an idea for a medical app development for App Store, make sure that it gets through the following list of do's and dont's.
Promoting Any Addictive Drug
When working up on an idea, be mindful of the fact that the app, by no means suggest/encourage consumption of illegal or addictive drugs such as alcohol, tobacco, or marijuana.
App for Diagnosis/Treatment
If the healthcare app holds the possibility of providing erroneous data or information, or they are meant for diagnosing/treating the patients, they are scrutinized to the core. In such situations, things could turn in favor or can get simpler if a regulatory clearance is submitted while sending deployment.
Approval for Drug Dosage
If the app includes any kind of drug dosage information, Apple will only approve it if it has got approval from FDA, drug manufacturer, or any university. In simple words, unless you manufacture a drug, you cannot make an app that refer them.
Apps that may Harm Device
By any means, the medical or healthcare app should not suggest app usage in a way that a physical harm to the device is done. For example: The app should not encourage keeping the device under the pillow or any mattresses when it's being charged. For more such references, you must check out the Apple hardware safety documentation.
Non Disclosure of User Data
User data and information that is being collected for any health, fitness, or medical research cannot be used or disclosed to third party in any form. In cases where the data and information has to be used in any research or improving user health, it has to be done with user consent only.
Apps for Health Research
If a research based app has to be developed, it is mandatory to have prior consent of the participants (and in case of minors, the guardian or the parents can provide the consent). In the process of taking consent from the participants, the app should be able to explain the:
Nature, purpose, and the duration of the research

What is the

procedure, risks involved, and the benefits to the participant

A clear indication about usage of data (or its sharing to any third party)

Contact details for participants to make any clarification or get answers

What is the process if the participant needs to quit the participation (in cases where research requires participation of few hours or days)
Permission for Conducting Research
Before conducting any biomedical or behavioral research involving humans through an app, it is important to have permission from Institutional Review Board (IRB). The ethical review board does a risk-benefit analysis to ensure if a particular research should be conducted and verifies benefit of the research to the participants. When asked, a proof of approval has to be shared.
Writing Data to Another Apps/Storage
Healthcare or medical apps are prohibited to write any false or inaccurate data to any of the health management apps or store the personal health related data on iCloud.
For Play Store
In comparison to Apple's set of rules and regulations for a healthcare app development, Google has less restrictions. However, any app that has to be developed for Play Store must be standardised with following factors:
Selling/Buying Drugs without Prescription
Any application that encourages sale or purchase of illegal drugs without availability of prescription by physician cannot find space in Play Store. Before giving the option for selling or buying of any drugs, it is important for the user to share the prescription for the same.
Hints for Illegal Drug Manufacturing
Any app that supports or give an idea about how manufacturing or growth of any illegal drug can be done will not get Google's support. Only creative, helpful, and legal concepts are welcomed and appreciated.
Have a Medical App Development Idea? Here is how to get Started!
Executing an idea into actuality is a thoughtful job. And to make things seamless, the best option is to take advice from the practiced minds of the industry who can guide you with the most innovative idea compilation techniques. For reference, check out how a substantial project to connect patients with the physicians (named iSikCure) has been successfully accomplished. You can too get transform some brilliant healthcare ideas into reality by taking consultation from the experienced industry minds, free of cost.