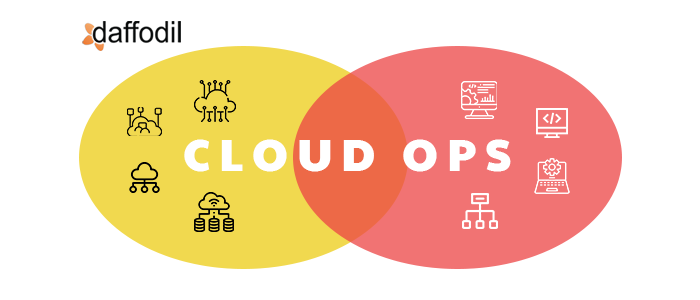 The public cloud computing market size is expected to reach $354 billion by 2022. This includes business processes, platforms, software, infrastructure, management, security, and almost everything that a cloud service provider delivers.
Certainly, cloud computing has a lot to offer to businesses. However, in order to get the most of it, businesses have to think beyond the 'cloud-first' approach. They need to focus on the cloud center of excellence (COE) who will be managing all activities related to IT services and workloads that run in the public cloud. This is where Cloud-Ops comes into the picture.
CloudOps, shorthand for Cloud Operations is a name given to the practice of managing performance and availability of cloud services to have maximum ROI. This includes maintaining the services to meet customer expectations, security & compliance, optimize operational cost, and avail other benefits that cloud computing offers.
But, why CloudOps when there is an IT team already managing the cloud? A number of large enterprises these days have cloud COE, which comprise of cloud experts to manage cross-functional disciplines such as IT operations, cloud architecture, security & compliance, etc.
What do these COEs try to achieve? What is their role in managing public cloud services when there is an IT-Ops team already? Let's understand the role of CloudOps team in managing cloud infra, software, storage, and other components.
What Exactly Does a CloudOps Team Tries to Achieve?
1. Managing Under & Over-Utilized Resources
Infrastructure resources that are under/over-utilized and are not managed properly significantly raises the overall budget. That is why it is important to optimize infrastructure on the cloud, which is known to save up to 50% of the cost invested in cloud infrastructure. The Cloud Center of Excellence (CCoE) team thoroughly assesses the resources, their utilization, and take actions accordingly. For example, if the resources have high utilization during a certain time, then instead of reserving instances, their scheduling or auto-scaling can be planned. Here are some tips that can help in infrastructure optimization of cloud.
2. Migration of Data and Application
A multi-cloud approach is indispensable for optimizing cloud services. In that case, it is quite prominent to move data or applications from one platform to another. But, moving from one cloud service to another means getting stuck with legal constraints or technical incompatibilities. The CloudOps team keeps a watch at these factors and ensures that migration is done, despite the N number of challenges involved.
3. Maintaining Business Continuity
Taking care of data availability and enabling business operations at the time of crisis is one of the benefits of opting for cloud services. However, despite the cloud service provider taking all measures to ensure business continuity, there are a number of factors that the CCoE team needs to manage. For example, containerization of applications, building cloud-native solutions, adopting a multi-cloud approach, cloud architecture, etc. The CloudOps team, apart from managing the IT services dedicatedly looks after these factors to ensure that even in the challenging times, there is access to the infrastructure, data, and applications.
ALSO READ: How to Ensure Business Continuity Amid COVID-19 Crisis?
4. Security Risk Management
The right configuration is the key to security. While the public clouds are considered to provide 99.99% security against disasters and provide high availability solutions, they can sometimes prove insecure. That is why CCoEs keep a continuous check on the configuration of the services to receive the best output out of the cloud services.
5. Maintain Compliance and Configuration
Cloud configuration involves setting up hardware and software details in a cloud environment. This ensures that all the elements communicate and interoperate to deliver efficient performance. While setting this up, it is important for the CCoE to ensure that standard compliance is followed in terms of industry, security, file formats, etc. Such an approach helps in maintaining a business or industry standards, enables avoiding situations such as vendor lock-in, etc.
With all these factors, the goal behind the CoE team is clearly defined- Getting the best out of public cloud services. Today, when speed is the prime factor for managing a dynamic IT environment, automation and continuous tracking are the keys to building high-performance infrastructure and applications.
Building an Optimized Cloud Environment: Getting Started
Having a CCoE team can ensure that cost and performance for cloud infrastructure is balanced. To build your own CCoE team, connect with our CloudOps expert who will guide your way to the efficient management of cloud services. To get started, set-up a free, no-obligation consultation session with CloudOps experts.