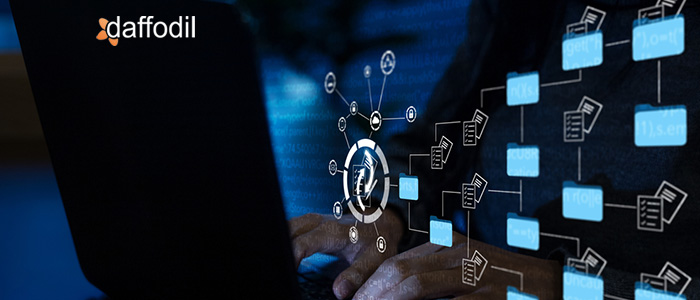 In the Banking, Financial Services, and Insurance (BFSI) sector every single transaction is of significance. Fintech solutions that allows the tracking and management of expenses, revenues, inventories, and personnel must be highly reliable. That is why financial institutions invest in Document Management Systems (DMS) or Enterprise Content Management (ECM) systems as a priority, so as to keep a secure record of each financial event and activity.
Banking institutions need to ensure the accuracy and completeness of transactions while keeping all the user and business-related data secure. As far as investment in IT infrastructure components such as DMS is concerned, the banking industry is a major market for it with strong growth potential in technology investment.
In this article, we will explore what trends in the DMS domain pique the interest of banking sector investors and stakeholders. But first, let us define what a DMS actually does.
What Do Document Management Systems Do?
Over the last few decades, all forms of documentation and document management have gone almost entirely digital across sectors. The importance of secure and scalable document management for the BFSI sector is second only to the healthcare services industry. A cloud-based document management system is any banking institution's best bet for storing information about transactions online and accessing them from anywhere such as in the case of the digital transformation of UAE's largest bank by Daffodil .
Despite this evolution in digital means of document management, a handful of traditional banking institutions still continue to manage internal and external communications through paper-based means. Moreover, storing high-priority documents using obsolete DMS software also leads to accessibility issues.
With the huge volume of transactions carried out by banks on a daily basis, they must make efforts to optimize their documentation and transaction record keeping. With appropriate DMS, banks can reduce the costs and delays associated with managing and sending documents as statements and notifications. Other benefits include the ability to keep an electronic audit trail, seamless compliance, streamlined banking workflow, and the environmental benefits of less paper usage.
Major Trends For Document Management Systems
The top qualities preferred by banking stakeholders in their DMS are that the architecture should be easy to integrate with legacy infrastructure, and there should be ease of use and flexibility. The use of state-of-the-art DMS makes immense sense for the banks and non-banking financial institutions so as to stand out from the competition. A more dedicated focus from the banking industry has led to a wide variety of DMS trends to emerge such as some of the following:
1)Cybersecurity Control Software
Any competitive DMS offering in the market should come with safeguards against cyberattacks on the sensitive data maintained on the banking institution's mainframe. Document cybersecurity control providers have recognized this market need and evolved into dedicated providers of cybersecurity features for banking DMS. Some of these features include:
File extension control: The foremost cybersecurity feature that these systems must have in place is to prevent or allow certain file types and extensions. The file header is matched against a list of all upload files to perform this check.
Multi-factor authentication: There are several methods, strategies, and iterations of multi-factor authentication. Google Authenticator is often a go-to option for banks but there should be the option for MFA token expiration to be tailored to the bank's policy guidelines.
Encryption: An extra layer of protection is added with QueryString encryption to DMS allowing the information passed between entities not to be tampered with in any way.
2)Cloud-Based Collaboration
The business case for cloud-based DMS is going through a paradigm shift, with a majority of the leading financial institutions switching to this way of doing business. With the cloud's capability of removing limitations related to size and scalability, there is no limit to the growth of business for a banking institution.
Cloud-based collaboration between merged conglomerates or small banking institutions opens up new avenues for limitless growth and portfolio expansion. As the need to have access to a closed network for internal communications is all but eliminated, partners situated in far apart countries can also collaborate on documentation exchange and tracking of transactions with relative ease.
Customer Success Story: Daffodil helps Chalo to migrate to AWS cloud platform; resulting in 40% reduction in cost of IT operations
3)Enterprise Process Automation
Document management software these days tends to consist of specialized computer programs for Robotic Process Automation (RPA). Repetitive tasks in the documentation and record tracking workflow are automated with a single click with the use of RPA-optimized programs. These program components also learn how to perform some of these business processes by observing manual handling by humans.
Automation also finds its applicable usage by data scientists to mine the enterprise DMS for relevant data. Even a small business can yield the same kind of business intelligence support with the right DMS equipped with AI enhancements enabling even low-level data engineers to do the same level of data mining.
4)Real-Time Indexing
All types of documents encapsulated within a DMS must be captured and categorized in a well-defined order. Scanned documents, emails, electronic records of transactions all come under the purview of this requirement and need to be ingested into the DMS with precision allowing ease for the admin to retrieve these documents from the system as well.
While legacy systems only allowed the manual entry of each document by a data entry executive, more advanced document management software indexes documents as and when they are entered. Archiving and storing all the relevant documents branching out of a financial transaction becomes much more user-friendly and with every iteration improves its accuracy and performance.
5)Business Continuity Strategies
In an industry that is increasingly working remotely, maintaining a sense of continuity between various business processes is a tough but essential task. So, financial businesses are investing intensively towards ensuring business continuity by setting up an audit team solely responsible for this aspect of each department.
Business-critical applications need a disaster recovery plan in addition to the business continuity plan, although they more or less coincide in terms of strategy. This is done simply through thorough testing and approval from audit teams looking after workflow capabilities, incident tracking and reporting, disaster recovery, and automation separately.
ALSO READ: AI in Banking Software: Applications & Challenges Involved
Choose The Right Document Management System For Your Needs
In the current market, there are several different types of document management software available, each offering something unique from the other. The best way to choose the right option for your business will depend on how you carry out your business. Efficient databases, automation, data mining, cloud integration, and other aspects all cumulatively result in a dependable document management system. If you are confused about the digital solution that best suits your financial business needs, you can set up a free consultation with us today.