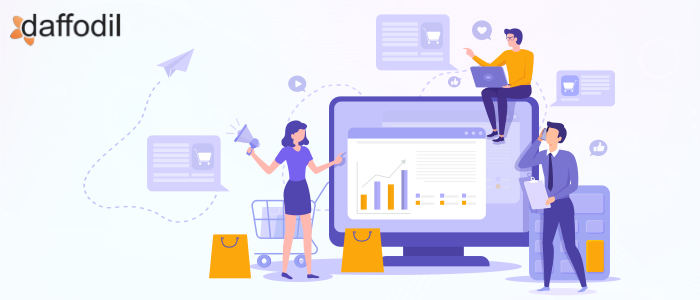 Running an e-commerce store means competing with hundreds of existing online marketplaces out there. No matter how great your product is, getting traffic, leads, and conversion is tough initially.
However, with a great content marketing strategy for an e-commerce website, it is possible to win an amazing customer-base, have their interest in products, and finally, make them proceed for payment.
But, what's an efficient marketing strategy? The one that converts, you may say. Well, the ultimate goal is to convert only but conversion is dependent upon customer traffic and interest within the product.
A Google search might take you to numerous suggestions for a fruitful content strategy for e-commerce store but here we are going to share tried-and-tested tactics to convert your customers.
Content Marketing Strategies that Work
1. Shoppable Videos: Videos are considered as a quintessential approach to engage customers and improve the conversion rate. Shoppable videos provide a direct purchasing opportunity to customers by allowing them to add products to bag directly from the video.
These links are either included in the video footer or embedded within the video. With such an approach, the viewers are routed to the product page so that they can have an immediate purchase decision and purchase the product, thereby improving the conversion rate. Renowned eCommerce brands such as Ted Baker, Nykaa, Puma, Burberry are making the most of this content marketing strategy to improve their conversion rate.
Nykaa achieves a 40% add-to-bag conversion rate from the integration of shoppable videos in its mobile app. Nykaa has a module within its mobile app called Nykaa TV that has shoppable videos, allowing the prospects to make immediate buying decisions while watching the video.
CASE STUDY: Know how Nykaa achieves a 40% add-to-bag conversion rate through Nykaa TV, an in-app module with shoppable videos. Read More
2. Chatbots: Businesses, irrespective of the industry they belong to are making the most of chatbots. Along with performing the role of a virtual assistant, chatbots allow eCommerce businesses to market their content for conversion.
Instant Messaging chatbots (for Whatsapp, Facebook) can be used to share the latest content with the customers. For example, you can share newsletters with what's new in your store with existing customers depending upon their past purchase or personalized offers and discounts can be shared through chatbots. Since the info is shared via IMs, there are high chances of getting read than an email newsletter or a push notification in the mobile app.
3. Q&A Network: Educating a customer is one of the important parts of marketing. However, knowing the real pain point of consumers and then addressing them is difficult. To workaround, the idea is to connect to consumers through a knowledge-sharing Q&A platform.
Nykaa, India's leading multi-brand beauty retailer for cosmetic and wellness products is adopting this technique. Through their platform called Nykaa Network, a community of beauty buffs is created who can ask and answer beauty related questions, share unbiased points of view, give and seek advice, discover trends, join beauty-centric conversations on topics of their interest, and make informed product choices. Nykaa Network has 150K monthly visits, 250K subscribers, with 13K new members joining the network every week. (Source)
Need Technical Help to make your Content Marketing Strategy a Success?
In all the content marketing strategies shared above, technology plays a major role. If you're planning to adopt any of the above-mentioned marketing strategies for your e-commerce store, then our technical experts can help you to get started (like they helped many other e-commerce brands like Nykaa, National Nutrition, etc.)
To get in touch with our experts to understand development feasibility, budget estimation, time-to-market, etc., schedule a 30-minute free consultation with our experts. Also, check out our comprehensive guide to eCommerce Development.