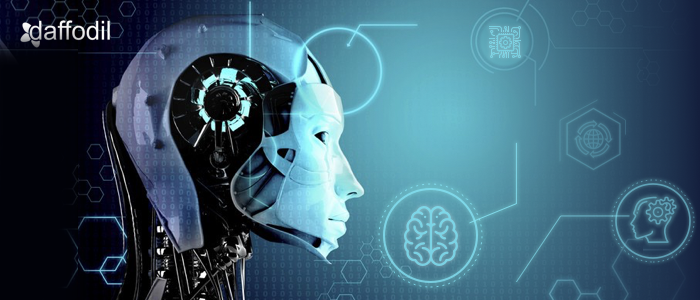 According to Deloitte, "RPA continues to meet and exceed expectations across multiple dimensions including improved compliance (92%), improved quality/accuracy (90%), improved productivity (86%) and cost reduction (59%)." RPA is being used in many ways across multiple business sectors such as banking, retail, transportation, government and so on. RPA has advanced considerably in the last couple of years and is expected to manage customer-oriented processes along with internal processes, in the coming years.
Robotic Process Automation is the result of an advanced software robot that mimics the behavior of humans while performing routine or repetitive tasks. It's often misunderstood as a humanoid robot, however, that isn't true. RPA is a robotic software that can be trained to perform rule-based processes with greater accuracy and compliance when compared to humans. It has the ability to perform high-volume of repetitive processes without any leaves or breaks. RPA thus enables employees to focus on creativity and other essential tasks of the company. One of the examples of RPA would be the automation of time-consuming fraud investigations to assist human bank employees.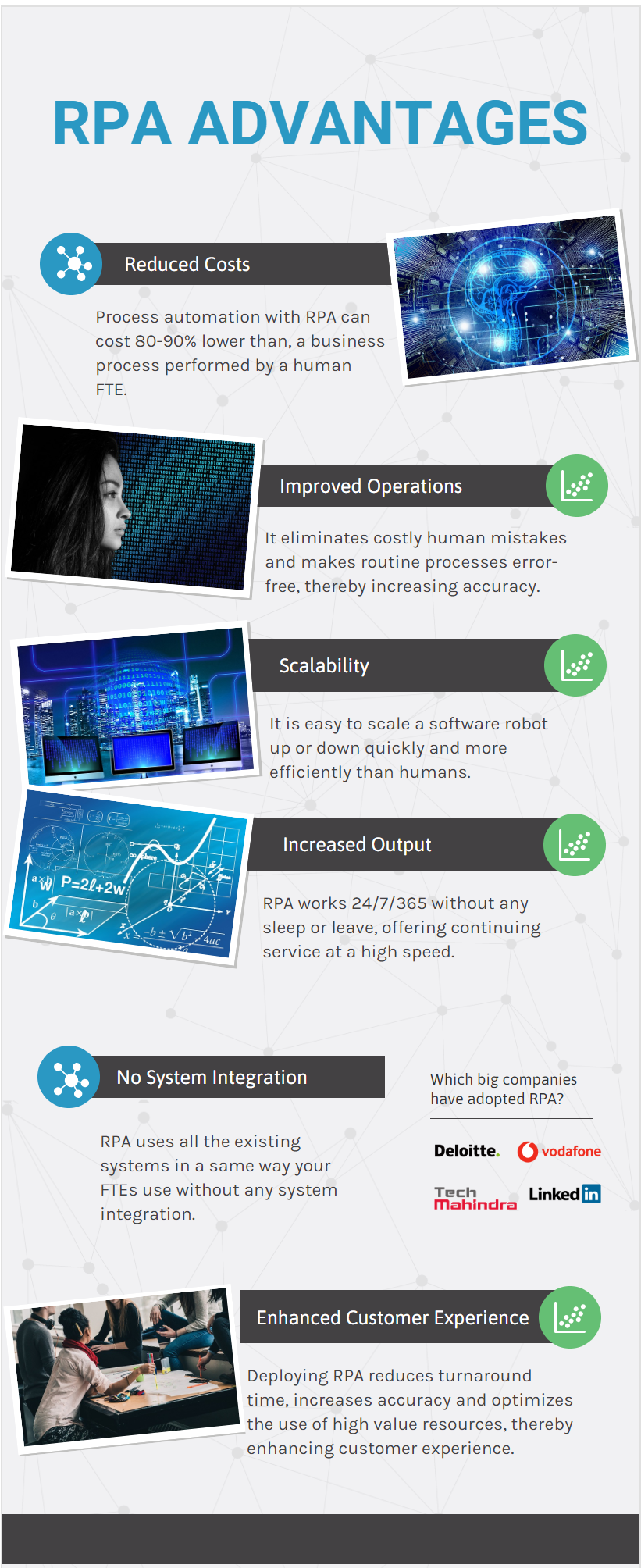 While RPA automates the company's routine operations, AI, on the other hand, poses self-learning capabilities to boost process automation to the next level. As business plans to adopt RPA and AI, it's important to first get a clear idea of how these technologies complement each other.
AI empowers RPA with its cognitive capabilities including machine learning and speech recognition. These cognitive technologies help in automating emotional or judgment based processes, which is not possible with RPA alone. Artificial intelligence adds value to business processes in many ways such as:
It can extract data from semi-structured, structured and unstructured data. AI can be trained in a way that it can cope with all the variations of the data at a high-degree. For example, in case of an invoice, the VAT might or might not be deducted, and might be written above the total value. AI acquires knowledge even if the data is written in a different format or in different places.

AI has self-learning capabilities (NLP and Speech Recognition) which allow extracting relevant data from the written text, even if it appears differently each time. For example, if an email has been written complaining about the delivered product's quality and did not even mentioned an order number. AI will be able to detect that it is a complaint regarding the product's quality and will also fetch order number from the information it already has.

Another feature of AI that adds value is that it can use its judgment to solve complex data from a variety of sources (voice, text, natural language etc.) very easily. Its cognitive reasoning can be used for predictive analysis and forecasting future trends.
These broad features of AI give us a glimpse of how it can empower RPA and its inabilities. It can enrich RPA with intelligent capabilities with the help of natural language processing, machine learning, and speech/face recognition. RPA can be advanced to make predictions, detect patterns, models and associated events. It will definitely go beyond just process automation. For example, it isn't far when you will not be able to recognize if you were chatting with a chatbot or a human being. As AI holds the power to take RPA to the next level.