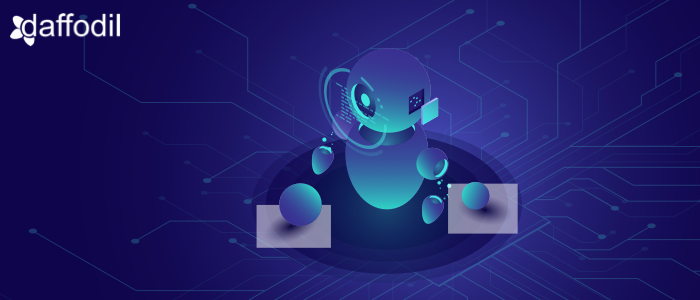 The healthcare industry is adopting technology for prevention, diagnosis, and treatment. Artificial Intelligence (AI), Blockchain, Internet of Things (IoT), Robotic Process Automation (RPA) are some of the technologies that are making waves in the health-IT sector, enabling stakeholders to refine the quality of health.

We talked about how AI, Blockchain, and IoT is transforming the healthcare industry. The later segment discusses the role and impact of Robotic Process Automation on the healthcare administration, supply chains, cost, patients, and more.

What is Robotic Process Automation (RPA)?

Robotic Process Automation is a technology that uses software robots or artificial intelligence to automate tasks and get them done, just like humans do. The RPA robots interpret, trigger responses, and communicate with other systems to perform repetitive tasks. These robots never sleep, make zero errors, and significantly reduces the cost & effort of humans that goes into performing repetitive tasks.

Software robots are capable of imitating most of the tasks that humans do. They can be integrated with systems to move files & folders, copy-paste data, scrape browsers, fill in forms, log in to applications, extract data, and a lot more.
Robotic process automation market revenues are expected to eclipse 3 billion U.S. dollars worldwide in 2022. | Statista
Use Cases of RPA in Healthcare:

There are several ways RPA can simplify the way care delivery cycle operates. Here are a few tasks that can be automated in HDO using robotic process automation.

1. Patient Appointment Scheduling

Just consider this. Your hospital has an appointment booking portal, which schedules hundreds of doctor-patient meetings daily. If any of the doctors fail to make it for the meeting, the hospital staff has to manually inform the patients about the doctor's unavailability, which doesn't seem feasible practically.

Such challenges can be resolved using RPA. A software robot when integrated with the appointment booking portal can extract patient-doctor data and the appointment set between them. Depending on any updates about doctors' availability, the patients can be informed about it.

2. Account Settlement

Healthcare delivery organizations deal with multiple patients' accounts at a time. This may include tests, prescriptions, doctors' fees, and other facilities provided. Manually calculating them and managing these accounts may result in errors.

RPA software can help healthcare organizations in calculating a patient's bill by taking data from different departments and send a notification to the patient. Automating account settlement with RPA reduces payment delays and inaccuracies in calculating the bill amount.

3. Insurance Claim Management

Health insurance claim management includes several processes. Collecting insurer's data, evaluating, and processing it is a time taking the process and error-prone as well. Automating insurance claim management using RPA ensures that all compliances are met while processing the claim and is done faster than humans do. Moreover, automation here ascertains that complex insurance claims handled with efficiency.

4. Improve Treatment Cycles

Health Delivery Organizations (HDOs) collect a lot of data every day. The patient's details, diagnosis, treatment is given to them, etc. is a set of information that gets stored in a database. Extracting and analyzing such data can help HDOs in understanding which treatment plan works well for their patients, which disease is diagnosed often, what medicines have been effective for patients, what kind of cases do they receive often etc. Collecting this insight helps HDOs in improving their care services for patients.
5. Workflow Management

Running a Care delivery organization means dealing with X number of processes and their workflows. Managing medical inventory, patient treatment, their follow-ups, resource utilization, etc. are some of the factors that HDOs keep a check on. These tasks, when managed manually, proves to be an inefficient approach as it consumes time and takes away attention from various critical activities.

Robot software when integrates with a hospital management system can take care of the workflows. By automating workflows, the concerned authorities can pay attention to critical tasks and manage the process in less time, as compared to humans.

RPA for Healthcare Delivery Organizations

The above use cases of RPA exhibit the potential of this technology to streamline care delivery tasks in optimum cost, time, and maximum accuracy. If integrating RPA with your existing HDO system in on your mind, then schedule a free consultation session with our health-IT experts to understand how robotic process automation services can positively transform the way care and administration tasks can be managed.
Recommended Video:
A short demo of how Daffodil is helping its Enterprise customers in India achieve Aadhar masking compliance using UiPath RPA platform.