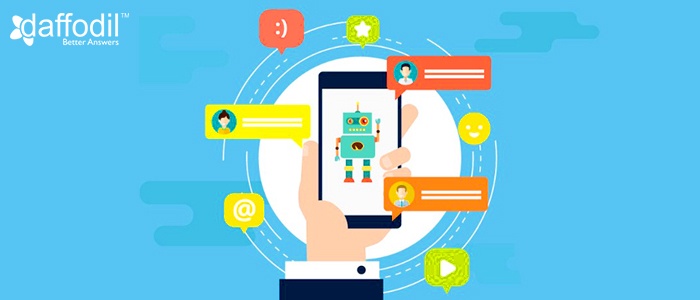 "By 2020, customers will manage 85% of their relationship with the enterprise without interacting with a human. By 2021, more than 50% of enterprises will spend more per annum on bots and chatbot creation than traditional mobile app development." -Gartner
Customer interactions provide you the most important inputs for your business. And chatbots help you reach out to your customers and listen to them. A chatbot is a program which can answer to the queries of your customers, can help customer book an order, can help them track past orders, and so on. Most of the forward-looking brands and companies like MasterCard, Virgin Atlantic, Health Tap, Shop Spring etc. have built one to make their customers' life easy.
Benefits of having a Chatbot for your Business:
Intuitive User Interface

– Everyone knows how to use a messaging platform and how to ask questions. You do not need to train users on how to use your chatbot.
24/7 Availability:

Chatbots are available to answer questions posed by clients, customers, or employees, which makes them a favorable choice for top-notch customer service.
Higher Retention Rates

– Customers can ask any type of questions to the chatbot, any time. Resolving problem of customers, when they want is an added advantage of chatbot over manual help.
Provide Data Points to Predict User Behavior

– An interaction with chatbot reveals the interest of customers, their pain points, feedback etc. These data points can further help a business to improve their customer services.
No Download Required

– The chatbots reside in

FB messenger

, telegram, Kik, or other messaging platforms, which makes it easy to get started with them.
Businesses that can make the most of Chatbots:
Customer Service:

Chatbot can answer most queries and can forward the complex query to the person in charge.

Assistant:

Employees can book meetings or track timesheets using a chatbot.

Ecommerce:

To promote sale by sending a custom offer on chat, based on previous purchases.

Tracking:

Customers can track their orders using the Order tracking chatbot.

To make a Transaction:

Using Transfer Wise chatbot, you can send money to your friends. MasterCard's chatbot provides you status of all transactions made in past.

Internal Communication:

Chatbots can improve internal communications by announcing news, changes and updates.
Chatbots do what apps can't. They offer customers a direct line to connect with the customers. Also, they provide businesses with information required to take an action ad defy the old-school strategies to interact with the customers.
Today, chatbots are delivering results that are far beyond better service. Moving forward, brands should identify the use case of chatbots and deploy them to drive their businesses forward.
Innovative Businesses should use chatbots to increase their revenue by 30%. Click here to make one.