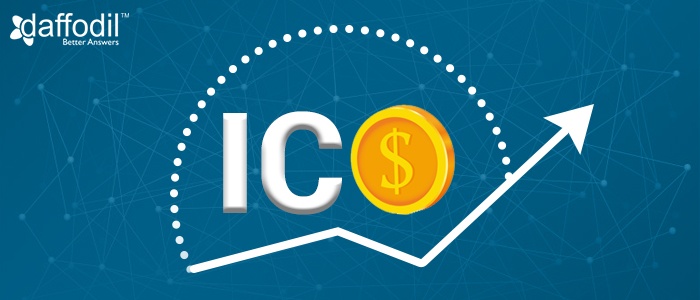 As the Blockchain technology matures, the digital world is realizing the opportunities that it brings in. Crowdfunding through cryptocurrency is one of the ingenious benefits of Blockchain that startups are utilizing, globally. The concept is popular as Initial Coin Offering (ICO).
In an ICO, a business uses the Blockchain technology to issue a token (a cryptocurrency) and then offer it to investors in exchange of funds (legal tender or cryptocurrency). Initial Coin Offering (or token sale) are considered to be a flexible mode of securing funds as compared to the traditional fundraising models like Initial Public Offering (IPO), angel investment, or venture capital.
The funds raised for cryptocurrency Initial Coin Offering (ICO) projects in the fourth quarter of 2017 amounted to 2.8 billion U.S. dollars. (Source: Statista | Click to Tweet)
The process of launching an ICO is faster and is comparatively easier than an IPO. With a number of open-source Blockchains (like Ethereum, Open Chain, Iris), smart contract development tools and services, holding an ICO for raising capital seems convenient to many.
However, before a startup or a business plans to launch an ICO, it is important to analyze the route to investors and work around the loopholes in the system to turn up the trumps. Here, we share a few things that should be taken into consideration to reap the benefits of an ICO.
1. Address to the Security Challenges of Digitized World
Nothing in the digitized world is 100% secure not even Blockchain. There is a lot of money involved in the process of holding an ICO, which makes it vulnerable to cyber attacks. Therefore, it is important to cross-examine the technologies and processes involved in creating an ICO and also look after to the possible vulnerabilities.
There has been history of ICOs going down with cyberattacks. One of the cases include ICO hacking, wherein the hackers changed the Ether address, allowing them to take away an investment of 7 million U.S. dollars.
Not just this, when launching an ICO, keeping a watch at other Blockchain applications is involved, which includes Smart Contracts. Vulnerabilities in a smart contract can let a business lose millions. Once deployed on Blockchain, it is irrevocable. Therefore, smart contract auditing is an essential step in its successful deployment and in launching the ICO as well.
2. ICO Marketing is Significant to Reach Potential Investors
Your potential investors may be anywhere. Therefore, it is important to analyze the right route to reach them, communicate, and convince them about your business idea. Considering that the concept of cryptocurrency is a hit amongst every generation (millennials in particular), reaching out the investors on social media and messaging platforms is a great idea. Along with this, promoting your business idea on Blockchain communities and having support from the members can build investors trust in your business or idea.
When the ideas behind fundraising are exciting, they attract potential investors. Also, there could be a possibility that your ICO is the first cryptocurrency your investor is investing in. Therefore, while creating a Whitepaper for your ICO, make sure that you clearly elaborate the business model for which the funds are raised and answer the questions that investors might ask through a FAQ section.
When publicizing your ICO online, you may come across netizens who might distract your investors from understanding your idea or restricting them to invest. Be prepared to handle online trolls and detractors online.
3. Follow Regulations and Compliance to Avoid Fraudulence
There are misconceptions around Blockchain and ICO that they are non-regulatory. However, government in various countries, at varied levels are defining rules that can protect their citizens from frauds. At an initial level, you can verify the ICO investors through Know-your-Customer (KYC) or whitelisting techniques. Such practices ascertains that only legitimate investors are participating.
You can ensure that your tokens are created using ERC20 standards. These standards ascertains that the tokens distributed as ICO are used as a monetary asset, can be transferred from one account to another, can become part of cryptocurrency wallets etc. While ICOs are considered to be non-regulated since its inception, they are self-regulated by entities that are into serious business of fundraising.
Initial Coin Offering: It's More than just a Fund-Raising Scheme
An ICO should never be considered as a source to raise funds only. When your investors have a positive experience with your ICO, it helps them build trust in your brand, presenting a professional image of your business. And in scenarios, when your business idea capably deliver its potential, it may encourage a community to invest your venture. Hence, a successful ICO launch has got further business opportunities in line.