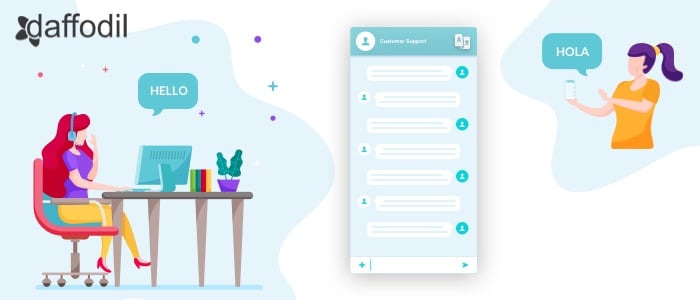 "We see our customers as invited guests to the party, and we are the hosts. It's our job every day to make every important aspect of the customer experience a little bit better." - Jeff Bezos, CEO of Amazon
Whether a startup or a fortune 500 company like Amazon, businesses understand that customers and their satisfaction is the prime contributors to their success. That is why, businesses are investing in customer service that's quick, interactive, and responsive.
There is an impact that customer service has on brand reputation, customer retention & satisfaction. The statistics shared below speaks for the fact.
Businesses that bring a concerted focus on improving their customer experience also end up boosting employee engagement rates by 20%. | Source


70% of American consumers say that they have spent more money to shop with a business that delivers great service. | Source


Gartner predicts that 89% of businesses are expected to compete mainly on customer experience. | Source


96% of global consumers say customer service is a significant factor in selecting which brands they are loyal to. | Source
To reach out to the customers and communicate with them, a number of effective, interactive mediums are used. Phone, live-chat, voice-assistants are a few of them. The later segment discusses the popularity of real-time live-chat for customer support and how multilingual chat can improve the CX, helping businesses refine the brand value and customer loyalty.
What's a Multilingual Customer Support?
Just consider this. You started an eCommerce business that began to thrive. Consequently, you expanded to different geographical areas and hence ended up with the need to provide multilingual support to the customers. In fact, interacting with customers in their native language builds comfort in having extended talks and have answers to all the queries.
Moreover, as the customer base increases and disperses to different geographical areas, having customer support agents who are multilingual can increase the overall cost of providing support and reduces ROI.
For a profitable customer support service, it is better to go with a multilingual chat support system that translates the conversation in real-time. Building a multilingual chat system offers a number of advantages to a business, which includes but are not limited to:
Builds Comfort and Customer Loyalty: Having conversations in the native language helps customers build comfort. This not only allows them to find answers to their product or service related queries but also lets them engage with the brand associates for more related info. A customer having great support experience is likely to spread the word about it, which ultimately improves branding and customer loyalty.


Gives an Edge over the Competition: Having a multilingual chat system allows businesses to have an edge over the local market. Users being able to interact with business associates in their own language gain a trust that's a bit difficult when serving overseas market.


Expands Sales Potential: When a business is able to expand to different geographical areas, it increases the market opportunities for the marketing and sales team. Since potential customers can interact with the team in their native languages, there is an ease to convert the requirements, which ultimately helps businesses improve sales.


Improves Productivity and Efficiency: A number of businesses depend upon telephonic conversations to attend customers from different geographical areas. This not only is a tiresome process but also leads to miscommunication due to accent and language barriers. Translating conversations in real-time means quicker support, maximizing average time with a customer, and improved efficiency of an associate in transferring the right information.
Planning to Build a Multilingual Chat System for your Business?
Great customer support is the backbone of any business. In the section above, we discussed the benefits that a multilingual chat system can offer a business, irrespective of its size and type. If you think such a solution can take customer support of your business to the next level, then get started with it by developing a roadmap for it. For any assistance, we have our tech experts available for you who can be contacted through a 30-minute free consultation session.
Demo: Real Time Multilingual Chat