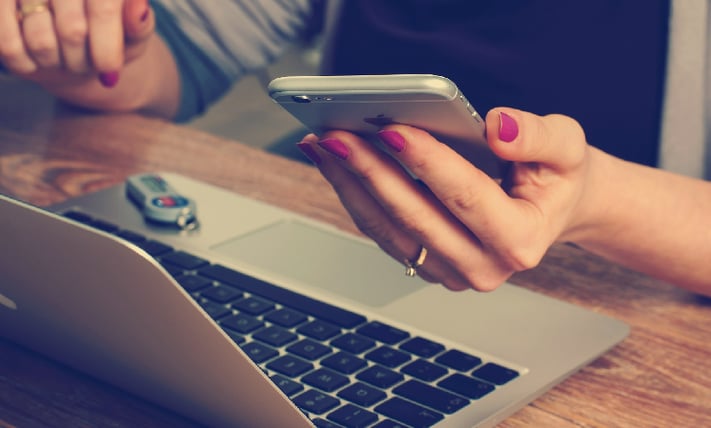 Before we begin, let us a take a walk down memory lane. Let us go back to 2008, the month of July. Apple launched its App store with a timid number of 500 apps, majority being gaming apps and music based apps. In the same year, Google launched its marketplace with a modest number of apps as well.
Apps were majorly considered as a source of entertainment and to cut time in between a person's hours of work. Less than a decade has passed and mobile apps have escalated from a meagre amount of 500 to 3.2 million! A growth of more than 6500% in mobile app development. This sort of growth is not only unexpected but totally flabbergasting.
A Game of Numbers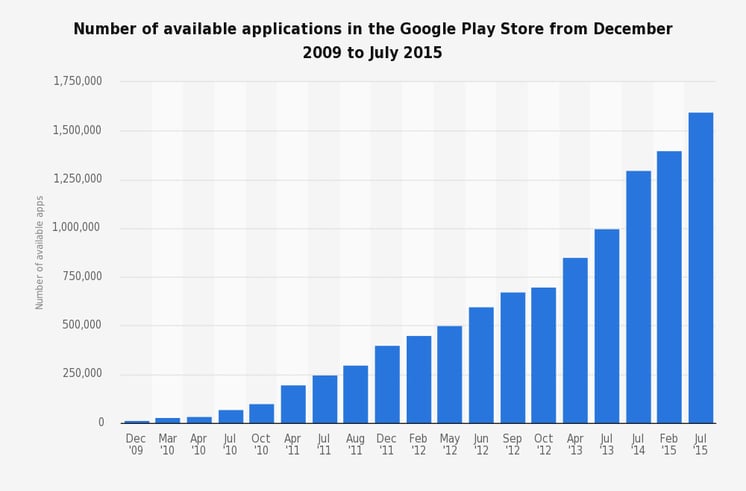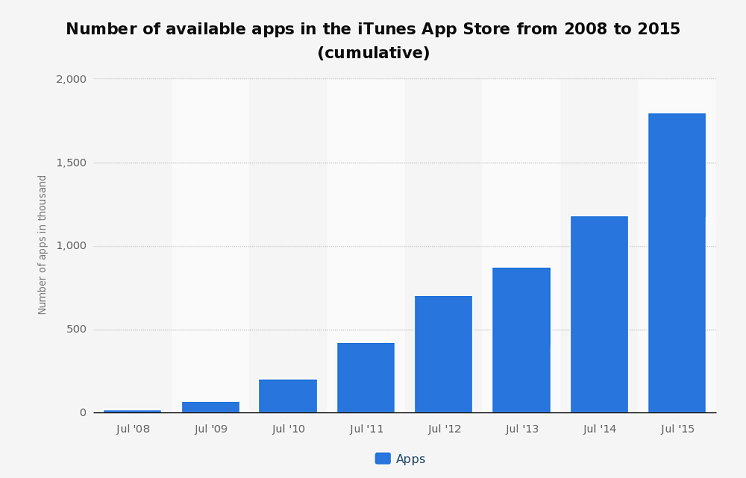 From the above graph it is quite clear that mobile apps are playing the game of numbers in the present market. Every company that has products to sell and services to offer is moving a step beyond from desktops to smartphones. Mobiles apps provide a massive market of customers and apps serve as a gateway to it.
Biggest example of market leaders taking the reins of mobile app development is the Great Bansal Marriage, also known as the Flipkart - Myntra acquisition. It was not long that Flipkart turned Myntra into a pure app based portal. India's biggest online apparel store turned to a pure mobile app model! courageous? overconfident? a far fetched strategy? No. Flipkart understood the rigorous mobile app development happening in India and before anyone could command the mobile app market. Flipkart took the leap of faith with an aggressive mobile app development strategy and got every other competitor running for an app.
Perhaps this instigated the surge of mobile app development. The Indian mobile app market is predicted to be worth 2700 cr by 2016. Also adding to this, 3G subscription has risen from 11 million in 2011 to an expected value of 266 million in 2016.This is the #digitalindia that we talk of, this is the arena of magnanimous IT growth, startups and mobile app development.
So in a way #digitalindia and mobile app development go hand in hand. What makes India unique is that India has not only replicated the western world's startup ecosystem, but has innovated and digitalized industries in India which one never thought would see itself as a mobile app.
Here are some startups that picked traditional indian industries, added a dash of mobile app development and screamed out "Viva la Revolucion!"
Jugnoo
So we have heard of Uber, everyone's personal driver. Ola cabs, Meru, Taxiforsure and suchlike have implemented similar strategies and are making Uber run for its money. But India was never too depended on Taxis and Cabs, everyone's preferred choice of conveyance has always been the marvelous "Autorickshaw". Draped in bright bollywood colors and playing better hits on its stereo than the country's top radio, Autos have always been an experience in India. Samar Singhla founded Jugnoo back in July 2014 and since then this startup has not looked back.

Jugnoo has digitalized the Auto industry in India by successfully implementing the Uber concept of two touch booking, e-wallet payment and location mapping. One would have never thought that an unorganized industry like the Autorickshaw industry can be synchronized in performance and monetary simply though mobile app development.
Chai Point
If Indians can collectively agree to any brand tagline ever made then it would be the tagline of Chai Point "India runs on Chai". I can say, on the behalf of the Indian Community, that if we do not get our morning 'chai', our day simply refuses to begin. And Chai or tea as consumable commodity can only be understood as tea leaves or through tea stall vendors in India.

Amuleek Bijral has travelled from the halls of Harvard to the bustling streets of Bangalore and came up with the idea of Chai Point. Chai Point started with a bunch of stores initially then moved to the staggering market of chai delivery through a mobile app. This just goes to show that mobile app development has reached out to serve even the most basic of needs such as freshly prepared tea.
Big Basket, Grofers, Peppertap

"Kirane ki dukaan". Every society in India has it and these stores serve as the one stop shop to all grocery needs. Grocery market in India has been depended quite satisfactorily on brick and mortar stores. Then again the Indian community has strict tendencies to purchase groceries with a touch and feel factor.
Looking at things now, the picture has been slightly modified. Online grocers like Big basket, Peppertap, Grofers have changed the constitution of grocery shopping. Brick and mortar stores are slowly going out of existence as these bold little startups are holding a strong bulwark.
Grofers is operating on an app only model whereas Peppertap and Big Basket are shifting towards the same. Mobile app development has caught on like a disease with grocery shopping apps popping out of thin air every second.
The list is certainly endless, startups that have products to sell or services to offer are preferring to adopt an app only strategy (Faasos, Opinio, Myntra, Hungry Bells, Cogxio, Momoe, Beaconifi Mobility etc). Again, this is the #digitalindia we talk of, a nation of bold entrepreneurs unafraid of innovative business models and steadfast mobile app development.
India holds in its lap a rising startup ecosystem. Armed with entrepreneurial quintessence and technological firepower, the atmosphere is raving with startups. And adding mobile app development to this, a startup can trigger massive benefits with a click of a button… or should I say… with a touch of a screen.
I hope you found this blog engaging. For more of such posts around mobile app development, startups and technologies, subscribe to the Daffodil blog and stay apprised of the latest happenings in technologies around the globe.