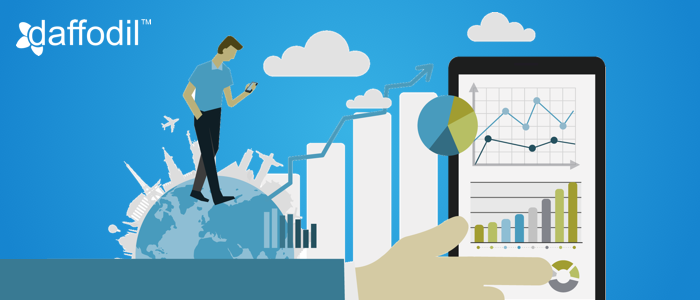 "21% of users abandon an app after one use and the fact that 1 in 5 users won't come back to an app after one session is alarming."-Localytics
Number of downloads is no more the criteria to define an app's success. While they are a great way to analyze app acquisition rate, they don't apprise you about retention rate of the app. To understand how users receive your app after it's live in production, it is important to measure metrics that informs you about how users interact and engage with the app.
User reviews have been the most important metrics to measure an app's success but they do not provide precise information about issues or usage patterns. A fine-tuned app analytics implementation is a better way to know about your app and users. It can give you precise information to act upon and to make your app successful.
In app analytics enable IT development and operations teams to track and analyze mobile app engagement and performance patterns. They are crucial part of mobile app development cycle as they help to:
Monitor app quality, such as latency and crashes

Improve user engagement and app usability

Increase user retention and conversions

Identify specific functions to add or deprecate for enhancing the overall user experience (UX)
Here are five app elements that every business should analyze while using in-app analytics:
1. Monitor bugs and crashes: Frequent crashes can tank app ratings and reputation of developers as well. Using crash analytics, you can continuously monitor the issues that are hampering user experience. This give developers a list of issues to hotfix and offer uninterrupted app-engagement to the users.

2. Performance analysis: With performance analysis of an app, essential details on technical behaviour of the app can be collected. They are generally related to device hardware configurations and network conditions. Analyzing performance metrics helps to figure out and fix unusual behaviour of app that annoy users, make them abandon the app, and ultimately reduces the retention rate. Analyzing app performance based on real user data can be a gold mine for boosting speed. Response time of backend should be constantly monitored to understand pain areas of user.

3. Action tracking: How user interacts with the app can help in understanding their engagement rate. Tracking actions like touch gestures on screen, session length, taps on screen etc. can help.

4. Push notification Events: At what time notifications are being opened, which notifications gave below average response, and which ones did great. Gaining insights from push notification events (like push received, push clicked, push discarded) can let you take a peek into how users are interacting with your brand.

5.App flow pattern: Analyzing user behaviour with the app helps to validate its UI/UX design. How user interacts with the app and navigates through different screens gives an estimate of user experience. If the usage sequence does not match with your app then see where change is required.
ALSO READ: Mobile App KPIs to Measure App Performance and Engagement
There are a number of app analytic platforms like Firebase (Google Analytics for Apps), Facebook Analytics for Apps, Amazon Mobile Analytics, Mixpanel etc. You need to ensure that the analytics relevant to business goals are incorporated for best insights and value.
With our discussion above, it's apparent that we must move beyond number of downloads and focus on in-app behavior to improve engagement and retention. If you want Daffodil to help you make your app successful using In App Analytics, schedule a 30 min free consultation with our expert, Gaurav Sharma.