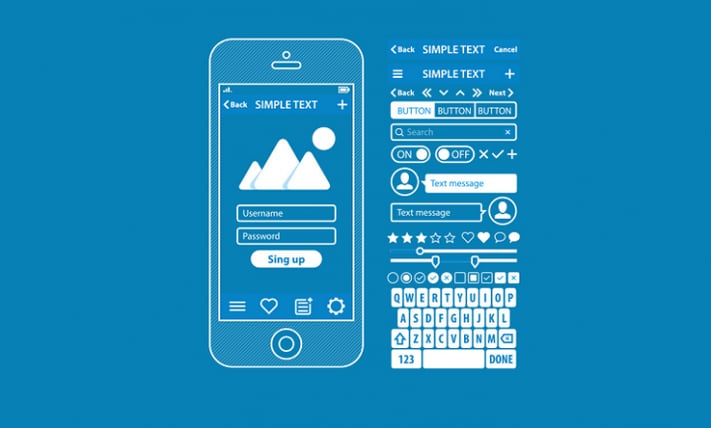 Any businessman who invests funds in app developement would always want the best ROI. Now here comes the question of app development and what aspect of it would help in generating income more. And out of these aspects, UI/UX has turned out to be the most beneficial factor.
When you have an app idea chances are there is a similar app in the app store. But what separates number of similar apps from a popular app is its UX. This is one of the key elements which will be a part of success attribute to any app. Analysis say that successful apps have a stunning look, attractive graphical content, and rich controls which has resulted into better user interactions.
Let us start from scratch by understanding what is UI/UX.
User Experience is the process through which you can increase customer satisfaction and loyalty by improving its usability which is easy to use and gives pleasure to user while interactions. Its is the conglomeration of tasks aiming to optimization of a product or service for a pleasurable use
User Interface is something which is designed to which a human can interact. This includes display screens, illuminating characters, appearance, look and feel and its overall presentation. It acts as complement to user experience.

So here are some checkpoints to make your UX great:
✔ Usefulness - This means to improve the user life by making the tasks easier while interactions.
✔ Usability - Usability means that the UX should not be complicated and should be easy to use.
✔ Desirability - This should cover the reason for which a user is using the app. Does it connect with the user or cover any emotional attachments.
✔ Accessibility - This should cover the loading time taken by mobile site or app. The user should be able to find what they are looking for in the app without any confusion.
✔ Credibility - This should include some elements through which user should believe in what you are telling them through your product.
Let us dive more into the world of UI/UX and see how it can add to your app's success.
#1 Increases User Engagement : if your app involves intelligent element with which users can connect then this will be very fruitful for your business as users will be coming back to use application. As soon as your user engagement increases, your brand will start getting loyal customers which further will help in brand awareness. Maximum apps become popular through word of mouth. It simply means better engagement will bring more customers.
#2 Colour Psychology : Psychological perspective says that use of colours in the designs of the application impacts conversion rates, as certain colours influences customer to take actions.
Colours have a persuasive feature which targets feeling and emotions of a human which makes him react in a certain way which is similarly true regarding psychological aspects of conversion rates. Colours such as red and green are ranked high for conversions.
#3 App Monetizations : After understanding user's expectations and requirements, Use of In-App ads and Freemium plans is good way to monetize your apps. When to throw ads to your customer is also a part of UX/UI. UI should be designed as per the audience targeted, with a suitable PPC ad which potentially can get generate lot of revenue from clicks.
#4 Less Updates : Effective and impressive user design will enrich user experience. Generally users get used to the apps over a period of time or either are annoyed by the repetitive improvizations of the app. So, if the UI/UX are pre-designed keeping target audience in mind which involves less updates will increase customer retention
#5 Avoids App Uninstalls : An app with good user experience will avoid users to uninstall your app from their phones. The estimates given says that minimum 18% of people try using app at least twice before any uninstallation. These behavior patterns says that you have very little time to impress your prospect through your designs and you cannot afford to lose due to these issues.
#6 Information Architecture : While designing for a mobile UX, it is considered best to stick your own industry. Understanding apps environment and connecting it to information architecture will help to optimize functional outputs accordingly. Using an approach familiar to user will give you a better knowledge about users reactions and help you decide for further improvements.
#7 UX metrics evaluation : Evaluation of UX metrics will give you an analysis about your gaps and flaws where you need improvements which will be drawn from a quantitative tools. Use of analytical tools such as session data, user recordings, and touch heatmaps will assess a proper result of apps UX.
Experts in UI/UX play major roles in the success of apps. UI/UX not only create a good impression about your products and/or services but also are the prime reasons behind customer acquisition.
We understood the importance of UI/UX during the early stages of our mobile app development journey and now, at this point, our adeptness in building great designs has reached standard of marvel.
I hope you liked the post, if you want to know more about UI/UX, subscribe to our blog and we will get back to you.