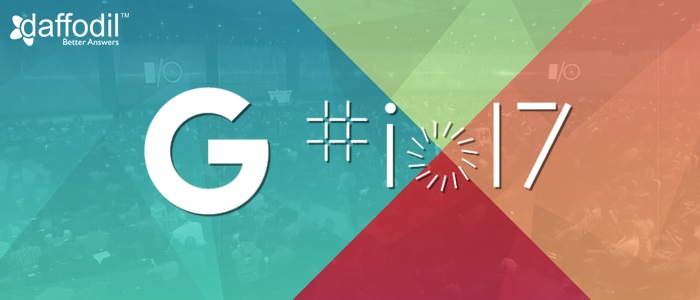 Google's annual developer conference finally kicked off with a two hour keynote session and it smartly gave a sneak peak at what Google has in store for the Android developers. Addressed by CEO Sundar Pichai and executives, the I/O unfolded upcoming plans about Android, virtual reality, voice based digital assistant, image based recognition, and much more. With its array of releases, Google actually notified the world about its undivided attention towards Artificial Intelligence. To put the I/O conference in a nutshell, here we are with 9 major announcements from the event.
Android Exceeds 2 Billion Monthly Active Devices
Android is dominating the gadgets world. Smartphones, Android Wear, tablets, Android TV, and many other gadgets are based on this adaptable operating system. With this, there is no surprise to the statement by CEO Sundar Pichai that there are more than 2 billion devices that run on Android OS.
Google Assistant to take on Apple's Siri
Google Assistant is all set to give an end-to-end competition to Apple's built-in Personal Assistant, Siri. With almost same functionality that it offers on Android, Google Assistant will be available on iOS devices, iPhone and iPad. It would be interesting to see how Apple manages to take Google Assistant in its stride.
Kotlin Joins Java for Android App Development
At the I/O keynote, Google shared a fanatic news with the Android developers and rest of the community by announcing first-class support to Kotlin. Just like Java, Kotlin runs on Java Virtual Manager (JVM) and it's already possible to use JVM languages and Kotlin for Android development. With Android Studio 3.0, Kotlin tools for development will be added by default.
Google Home to Launch Hands Free Calling
Google Home will soon start to support hands-free calling on numbers in U.S. and Canada. The smart speaker will use the Google contacts and built-in Google search (for businesses) to start the call. Initially, it will use a private number to make the call and will later provide an option to link your mobile number to Google Assistant.
Also, Google Home will support multi-user setup that enable up to 6 users to link their Google account to the smart speaker. However, giving priority to user security, only outgoing calls would be allowed.
Android O Developer Preview Available for Trial
With first beta release, Google launched a preview program for Android O. Although, the new version of Android is in its early stage, installing preview on every smartphone is being restricted by Google. Nevertheless, for testing, development, and feedback, the Android O can be installed on compatible Nexus and Pixel devices.
Android Instant Apps are All Set for Developers
Google announced about this smart technology, what it calls Android Instant Apps in the I/O 2016. After incubation of almost a year, it is available for use. With Instant Apps, a lightweight version of an Android app can be created by developers that frees the user from paying a visit to Google Play Store.
Google Photos Adds Books for Physical Memories
Google Photos is getting a bunch of new features. The first one is 'Suggested Sharing', wherein the app recommends you to share photos with people that it recognizes to be in the shot. Also, there would be 'Shared Libraries' that will facilitate others to contribute photos to a central collection.
Next in row is the Google Books that will make it super easy to transform digital photo backup into physical memories. Books are available at a starting price of 9.99 USD
Wait, there is more in the store. In future, Google Photos may help users to improve their photos by removing unwanted items from them.
Smartphone Independent VR Headsets are Coming Soon
Experiencing virtual reality may soon feel light and powerful. The company proclaimed that the upcoming VR sets by the partners like HTC and Lenovo won't call for strapping smartphone to your face. The headsets will smartly track the virtual space by 'WorldSense', which is powered by technology from its tango augmented reality system. However, Google did not notified about when these standalone headsets would be available for use.
Google Assistant will understand the World Better
Certainly, Google Assistance is responding to our queries quite well. But now, Google claims that it will respond to our surroundings also. With smartphone cameras combined with their technology called 'Google Lens', the Assistant will be able to analyze the surrounding better and will show relevant results on screen. Let's say, you point your camera lens at Wi-Fi login credentials and your Android device gets logged into that network. Yes, that's the benefit in line of the new Google Assistant.
What's your Take on Google I/2017?
With these major tech announcements at I/O 2017, Google gave a hint about its next biggies and its endeavours towards making the most of Artificial Intelligence. What do you think about this year's I/O conference? Let's discuss it in the comments below.