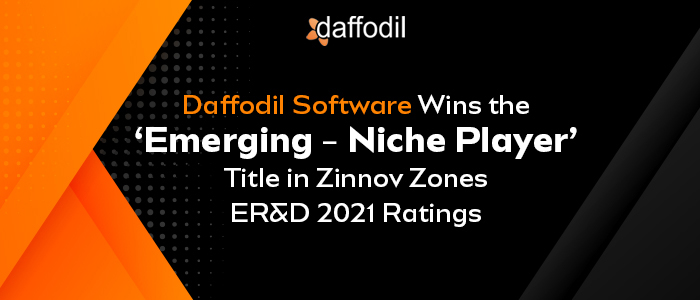 Gurgaon, 16th November 2021: Daffodil Software, a leading software services company, today announced that they have been positioned as an 'Emerging Niche Player' in the Zinnov Zones for ER&D 2021 ratings.
Zinnov is a global management and strategy consulting firm known for its releases of annual ratings for global technology service providers. It assesses their prowess and scalability across ER&D, IoT, Media & Technology, Digital Services, and RPA. The ratings provide a holistic 360-degree assessment of service providers. This enables business leaders across industries to make informed decisions in their partner selection across geographies for their Engineering and R&D-led product and service initiatives.
In the Zinnov Zones for ER&D Services -2021, Daffodil Software has made it to the Niche Player list under the "Overall ER&D Zones". For the title, the ER&D capabilities of several companies are evaluated across 30+ parameters including Innovation & IP, growth rate, Ecosystem Linkages, R&D practice maturity, specialization, etc.
Last year Zinnov Zones introduced AI engineering to its list of parameters for ranking the companies. Daffodil Software, owing to its early adoption, continuous investment in AI technologies, and delivery of some groundbreaking projects made it to 'Established-Niche' ranking in the 'AI Engineering Rating 2021'.
Besides being titled as the Emerging Niche Player, Daffodil Software is listed amongst 22 global engineering service providers under the 'ER&D Zones - Small and Medium Service Providers' category. Also, considering the scalability of projects, sub-verticals served, and client-spread, Daffodil Software is placed under the 'Execution Zone-Competency' for 'Consumer Software Ratings 2021'.
Daffodil's mention in the list can be reasoned with its long-term technology partnership with renowned clients & multiple managed services, diverse skill set, early adoption of modern techniques, and decades of experience in delivering custom software solutions.
Speaking about Daffodil's position in the Zinnov Zones study, Yogesh Aggarwal (CEO, Daffodil Software) said: " The COVID-19 pandemic has made the world realize the importance of digitization. Last year, we got the opportunity to work on some disruptive ideas and transform businesses with the best of modern technologies. We are proud that our engineering services are mature enough to help businesses get through tough times. The accreditation we received from Zinnov Zones validates it."