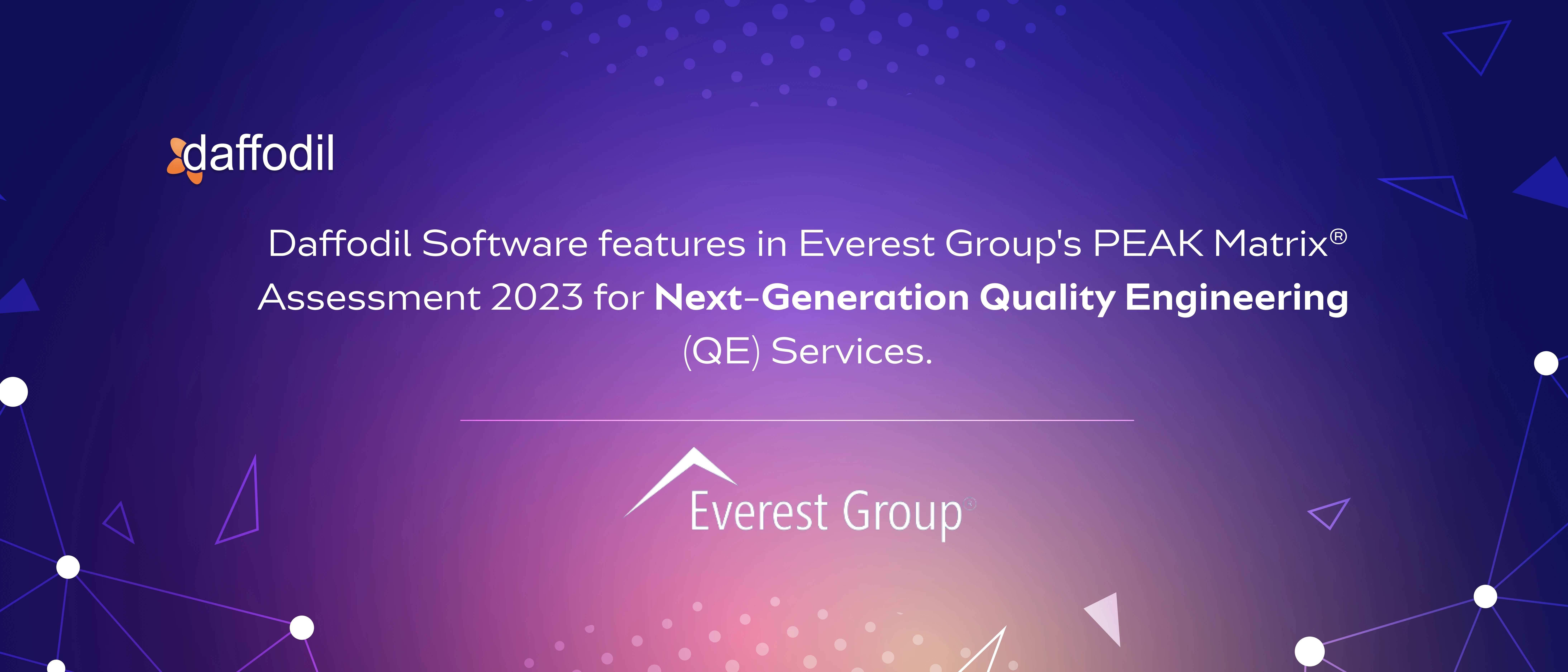 Daffodil Software, a global leader in software engineering solutions, announces its inclusion in the Everest Group's PEAK Matrix® Assessment 2023 for Next-Generation Quality Engineering (QE) Services. The provider has been positioned as an 'Aspirant' in the Quality Engineering QE Services category.
This recognition places Daffodil among the top 35 innovative service providers known for their cutting-edge capabilities in next-generation technologies such as cloud, AI, IoT, blockchain, and extended reality.

Everest Group's PEAK Matrix® Assessment is a unique framework that provides key stakeholders with most trusted, data-driven assessments of the positioning of global service providers, solutions, and products within different market segments. It serves as a benchmark for buyers to choose the best-fit provider based on market impact, strategic vision, and delivery capability and for providers to benchmark their performance against their peers.

Daffodil Software, the technology partner to a myriad of innovative startups, SMEs, and enterprises, is globally acknowledged for its vast pool of talent proficient in next-generation technologies such as AI, Gen-AI, AR/VR, Blockchain, CloudOps and more. Daffodil's team of over 1000+ highly skilled individuals have worked relentlessly on projects in domains such as Healthcare, BFSI, BI, and eCommerce. This expertise has attracted a diverse range of clients, including prestigious names like Samsung, NOKIA, Reserve Bank of India, Denso etc.

Reflecting on this recognition, Yogesh Agarwal, CEO of Daffodil Software, expressed, "Today, enterprises are realizing the critical role of quality engineering solutions in supporting their technology architecture. This is where we step in. We are honored to receive this recognition from the Everest Group. Our strategy of prioritizing new-age solutions, backed by a quality-first approach, has secured us a place among the leading quality engineering service providers. Our versatile team and their concentrated focus on quality engineering, is instrumental in driving innovation ​​and expanding operational capabilities for our clients."

To learn more about Daffodil Software's recognition in the Everest Group's PEAK Matrix® Assessment 2023, please click here!


About Daffodil Software:
For more than 20 years, Daffodil Software has been a trusted software technology partner to organizations across the globe. We take pride in our ability to look beyond technologies & deliver innovative solutions. Daffodil is a CMMI level 3 accredited organization with innovation, tech agility & process orientation rooted deep within the core. Our team of 1000+ developers strive to shape the tech industry and help businesses elevate their value proposition through technology.