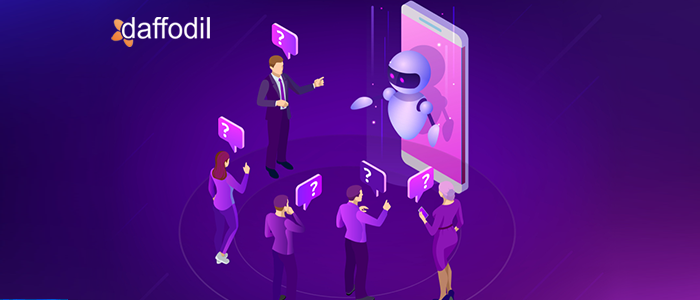 We are all aware of chatbots and how they interact with us. And we all have invariably wished if only they were more human-like.
Admit it, it is pesky to be interacting with a bot especially when it fails to understand your core issues. That's when you wish if only you were talking to a human than a virtual assistant.
As per a recent Intercom survey of 500 Business Leaders – 87% of customers still prefer humans over chatbots. And only 25% are ready to interact with chatbots as long as they solve their queries.
So, what does that tell you?
For a more engaging customer experience, your chatbot needs to mimic a dialogue with your customer in the most human-like manner.
And, Conversational AI does just that for you.
What is Conversational AI?
Conversational Artificial Intelligence (AI) is a set of technologies including chatbots and voice or virtual assistants with which customers can communicate with. It requires Machine Learning (ML), Natural Language Processing (NLP), to help make the interactions more human-like. It also involves speech and text recognition and translation in several languages.
How does Conversational AI work?
So, how is it that a user's query gets interpreted by a chatbot? Here's how. When a user poses a question to a virtual assistant, Natural Language Understanding (NLU) processes its meaning and context irrespective of the choice of words, grammatical errors, or slang. This is different from identifying keywords or a set of words or phrases and providing a pre-scripted response.
Yes, Conversational AI is different from scripted chatbots.
Conversational AI understands the context of a user's interaction rather than providing scripted solutions which put off many users, by the way.
Once the intent and context of a user query are clear, AI then determines the right response basis Machine Learning. Over time the process gets more evolved organically with more queries and responses from the customers. By grasping and learning more variations of the same query, the chatbot gets trained to serve the most appropriate responses to its users.
Also Read: Back to Basics: 5 Crucial Components of Machine Learning
Conversational AI vs Scripted Chatbots
A traditional scripted chatbot, stores scripts, and responses pre-written in its database. It presents a user with the closest response basis keywords and phrases on a prompt. If the customer query does not match any of the predefined keywords, then the chatbot can't generate a response leaving the user in a tizzy.
An AI-backed chatbot doesn't require you to write new conversations. A Conversational AI chatbot sticks to the context of the entire conversation because of its in-built conversational capabilities.
Benefits of Conversational AI
Businesses today are opting for Conversational AI for a string of benefits. Here are a few for you to consider:
Cost efficiency: A robust high-performing Conversational AI chatbot can do away with the need for hiring and managing a team of customer service agents. Not only that, a chatbot can answer user queries round-the-clock when agents may be available. It also reduces the chances of inconsistent responses stemming from human error. Businesses can also build use cases by the repetitive information-seeking programming of the Conversational AI.
Better customer engagement: With Conversational AI your customers can reach out to you more often and engage with your brand easily and more frequently. The technology can be accessed via mobiles to provide users with real-time information anytime, anywhere. Your customers don't have to wait for their turn to talk to a representative leading to improved customer satisfaction. As a brand, you can gain increased customer loyalty. What's more? With the personalization features, you can even cross-sell products.
Flexibility: Conversational AI is more scalable and gives you more flexibility and control in terms of infrastructural costs than on-boarding a team of agents. This is beneficial especially for businesses that are growing across multiple geographies and markets.
Data collection: Data collection is integral to any business and what better than AI to do the job? You can track the wish lists of your customers thereby increasing marketing initiatives about the products of interest. Besides, AI is a great tool to assess the various communication styles and predict better ways to engage your customers.
Also Read: Artificial Intelligence, Machine Learning, Deep Learning: What's the Difference?
Conclusion
A Conversational AI not only makes it easier for customers to engage with your brand or product but also saves on the cost and bandwidth of your teams. Users today are more aware than ever and expect a better experience with a touch of personalization to meet their demands. If you are also looking to give your brand a boost through Conversational Artificial Intelligence then get in touch with our team of experts today.