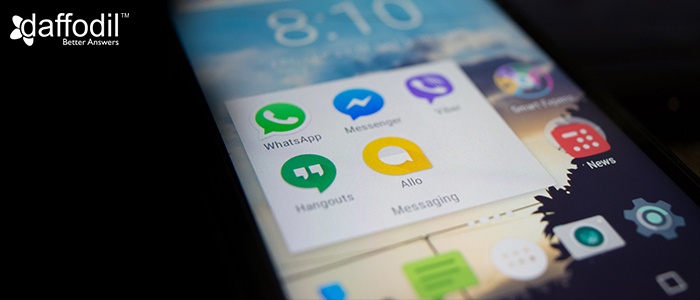 The use cases of Instant Messaging (IM) apps are no more limited to sharing short text messages. IM apps today are facilitating users to share files, video chat, clickable hyperlinks, create conversation backup etc. Alongside some exclusive features and functionalities, these apps are backed with some essential security features that is helping them to enter into the business world as well.
However, for making a space into the enterprise sphere, IM apps needs to pass some stringent security tests (due to confidentiality of data). In the later segment, we discuss three essential steps that you should follow before finalizing an instant messenger for your enterprise.
Step 1: Examine the App, Thoroughly
In the initial stage, the goal is to decide if the app is suitable to share sensitive business data. If the app is serving some much needed functionalities, then coordinating with security and risk management team to overcome the challenges can give a solution.
Depending upon confidentiality of data, the security measures can be checked or extended for mobile device or app.

Security measures for enterprise IM apps

can ensure that the device and app is safeguarded against invalid access or share.
IM apps do have terms and conditions for usage for customers but they are not especially meant to support an enterprise infrastructure. Therefore, companies should hold a privacy policy that is in compliance with the enterprise regulations.
In maintaining a security system, the enterprise mobility team plays an important role. The enterprise mobility management team can ensure that the best app is used, considering that any security challenges at business level do not affect the customer base or their experience.
Tip: If an instant messenger XYZ has a user-base that complements your business, then instead of blacklisting the app for any security concern, make it a point to overcome its challenges. Blacklisting an app should be the last resort.
Step 2: Define Instant Messaging Policies
Once an app is shortlisted, the next step to define a policy, instructing employees about how they can use the messaging app for sharing enterprise data. If the IM app is not meant to share any sensitive data, then usage of secure mediums like email should be recommended beforehand.
IM apps are generally used for everyday conversation with the clients, like sharing deals, booking appointments, giving an update etc. Therefore, when defining the policy, what can be sent or received should be clearly communicated.
Step 3: Use Add-On Security Measures
Possibly, an IM app may have features that makes it a suitable option for your organization. However, as a part of foolproof security, some add-on measures can be adopted. For example:
Whatsapp uses file-level encryption (end-to-end encryption), which ascertains that no-one except the two parties involved in conversation is able to decode the content. However, at times when a confidential information is shared with client, encryption at data level is also important, so as to ensure that only authorized user has access to it. When such measures are taken, they should be included in the policies maintained for IM usage.
ALSO READ: 3 Foundational Technologies for Enterprise Mobility Solutions
A Secure IM Service for your Enterprise: Making it Possible
Enterprise mobility has got massive adoption, for the fact that they enhance productivity at work. Instant Messaging apps have been serving the purpose of data sharing, anytime, anywhere. However, sensitivity of data is still a big concern for businesses.
While a lot of measures can be taken to overcome the security challenges, the best idea is to have a customized IM app for your enterprise that is in compliance with company's regulations. Daffodil has got its specialization in enterprise mobility services and therefore knows what it takes to build an app to ascertain that mobility and security goes hand in hand. To know more, you can book free consultation with our enterprise mobility experts.