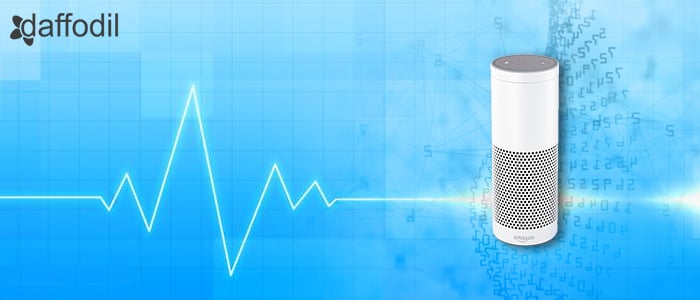 The smart speaker market continues to grow, with global shipments tripling from 3.9 million units. These speakers, integrated with virtual assistants like Alexa, Siri, Cortana is enabling users to perform tasks like checking the weather, asking to turn off the lights or play favorite music, set reminders, and a lot more with voice instructions.
While smart devices are a great aid in performing day-to-day tasks, the technology holds the potential to do much more than this. Almost every industry, from hospitality to entertainment is realizing its business use-cases and adopting it to improve their customer experience.
In fact, healthcare providers are discovering the benefits of voice assistants in increasing efficiency and improving patient experience. That is why a number of healthcare brands are smartly utilizing voice technology, giving some strong reasons to believe in its competency. Here are a few examples showcasing applications of voice assistants in healthcare.
1. Helping Patients to Manage Diabetes
Sugarpod is a type 2 diabetes management solution that has custom tasks for patients, based on their preferences. The patient experiences are usually delivered via SMS, email, web, or via a voice interface. Sugarpod, when integrated with voice assistants like Alexa allows patients to manage their treatments and monitor progress effectively. This way, voice assistants in healthcare can help in chronic disease management.
2. Assuring Medicine Adherence for Patients
Non-adherence to medication is one of the major issues in chronic disease management. To resolve this problem, one of the Boston-based voice platform startup, Orbita has come up with an Alexa Skill that reminds elders to take their medication on time. Along with this, the Alexa Skill also keep the family involved in caregiving activities.
ALSO READ: Medicine Adherence Systems: Improving Patient Health and Treatment Outcomes
3. Insurance Purchase and Claim Management
Buying the right healthcare insurance and claiming it is a complex job to do for many. To simplify this, Liberty Mutual, an American insurer has developed an Alexa Skill that allows the insurers to navigate through their plans and helps to manage the policy using Amazon Echo. In case the voice assistant fails to find a policy match according to a prospect's profile and budget, it directs the call to an independent agent.
4. Voice Activated Instructions for First-Aid
Mayo Clinic, a non-profit academic medical center introduced an Alexa Skill that allows its users to get the first-aid information. Users can pass on relevant statements like "Alexa, ask Mayo First Aid how do I treat my burn blister?" to get first aid information.
5. Health Tips for a Better Lifestyle
Voice assistants can help out their users with day-to-day tips for a healthy lifestyle. For example, they can offer tips to treat insomnia, ceate a diet chart to improve protein intake in diet etc. Such an Alexa Skill is being developed by Cleveland Clinic that allows its users to take advantage of vast knowledge base that the academic medical center delivers.
6. Live Info about Healthcare Provider
According to a Deloitte study, average wait times at the doctor's office costs around $43/year. New Hanover Regional Medical Center, based out in North California has an Alexa skill for patients that allow them to have live updates about the hospital. Users can have real time info about parking, lost and fond information, bill payment details, directions to the hospital, info about the team at the medical center and their availability, etc.
7. Diagnostic Suggestions using AI
A virtual doctor with whom patients can have an empathic conversation- about their well-being, symptoms is a possibility. HealthTap's Dr. AI Alexa Skill uses Artificial Intelligence, Deep Learning, and Emotional Intelligence to offer diagnostic suggestions to the users. The skill leverages the medical know-how and experience over 107,000 physicians and doctors across more than 140 specialties.
The use cases of voice assistants in healthcare shared above are only scratching the surface of its immense potential. There is surely a lot more the voice assistants can do to resolve the challenges of the healthcare ecosystem and at the same time improve the patient experience.