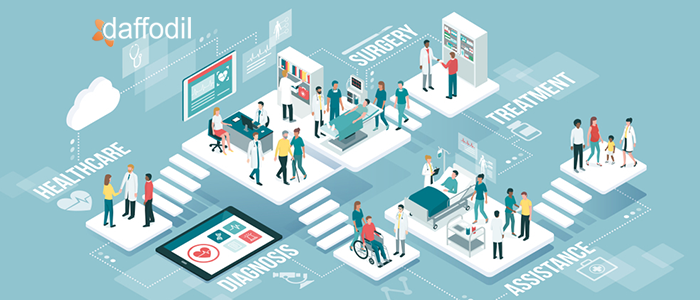 Telemedicine can simply be defined as online healthcare and diagnosis through apps and videoconferencing. It is lately becoming a widely accepted alternative to physical patient-doctor consultation. Global attention towards providing sustainable telemedicine services has exploded. This has especially been witnessed throughout the accessibility struggles faced during the COVID-19 crisis.
A report compiled by the US Center for Disease Dynamics, Economics & Policy (CDDEP) highlights that India alone faces a shortage of nearly 600,000 doctors and 2 million nurses. The practicality and availability of in-person physician consultations are being challenged amidst uncertainty around social distancing norms.
Healthcare service providers rolling out telemedicine services during the pandemic has been a great boon for pushing market-wide adoption of this innovation. They can now make use of services like remote patient monitoring and store-and-forward telemedicine to achieve greater results.
By quickly integrating telemedicine with their healthcare delivery, many medical service providers will be able to sail through some of the following issues:
Accelerating deficit of doctors, nurses, and other diagnostic professionals
Lack of efficient administration of Electronic Medical Records (EMR)
The difficulty in delivering healthcare services to inaccessible geographies
Cloud for Scaling Telemedicine Solutions
Healthcare providers have to worry about substantial upfront expenditure and resource allocation for scaling up when integrating telemedicine into their services.
However, with cloud-based integration, these issues can be avoided. This is because there are no budgetary constraints and lining up with legacy systems involved. Fully functional telemedicine solutions can be up and running for the organization in real-time.
When it comes to shifting to the cloud, healthcare organizations can opt from several cloud computing service models. Infrastructure-as-a-Service (IaaS) and Platform-as-a-Service (PaaS) are the two most suitable models which provide enterprise cloud integration solutions for healthcare organizations.
Why Telemedicine is best integrated with PaaS
PaaS is a cloud computing service model that allows developers or customers to run and manage business applications without worrying about the underlying infrastructure.
Running servers, infrastructure maintenance, and allocation of resources are functions handled by a third-party cloud service provider.
PaaS is the go-to solution for healthcare organizations that don't have the infrastructure or manpower to implement telemedicine into the delivery of their services. They get to use their direct input and insight in managing a fully customizable telehealth solution.
From data collection to patient-doctor communications, reporting, security, and compliance, there is full infrastructural support at every stage.
PaaS enabled telemedicine has the potential to let medical companies come up with sustainable solutions through what is known as the 'Triple Aim' in healthcare:
Improving the general population's health
Upgrading the care experience of the patient
Reducing per capita healthcare expenditure
For medical outfits looking to enhance their care capabilities with telemedicine, PaaS offers the following advantages:
A cloud-based telemedicine software running on the PaaS model is maintained by a third-party vendor and is licensed on a subscription basis.
This software usually exists as part of a comprehensive electronic Quality Management System (eQMS). This software handles the nuances of productivity, time, money, and potential compliance issues.
The eQMS usually supports compliance with FDA requirements such as 21 CFR Part 11 and standards like ISO 9001, ISO 13485, and the Health Insurance Portability and Accountability Act (HIPAA).
Common compliance features such as digital signatures, document control, audit trails, Corrective and Preventive Action (CAPA) systems, and validation or revalidation are managed well by PaaS-based eQMS.
Leveraging the capabilities of PaaS, a telehealth platform service provider manages and administers the required services on a pay-to-use basis.
When a new service update needs to be rolled out, the third-party PaaS vendor makes sure that there is no need for the telehealth provider to manage resources in-house.
The PaaS cloud provider takes care of creating, installing, and managing all hardware and software infrastructure. It also hosts the data on cloud servers.
Everything a healthcare provider would need in terms of engagement tools, mobile support, scheduling, and administrative assistance is already prepared for implementation at the touch of a button.
Integrating with Existing Infrastructure and Services:
PaaS enables a healthcare organization to integrate its existing EMRs, devices, and IT systems within a single platform.
Through the highest level of flexibility and management control over the IT resources, it eliminates any need for heavy lifting when it comes to running your application.
Additionally, for many organizations, implementing telemedicine means scaling up existing medical care offerings and packages. PaaS scales up essential ongoing care and also reduces the burden on critical healthcare staff to upskill in the technical aspects.
Sophisticated Data Center:
The PaaS model comes with a much more sophisticated data center than what an on-site setup can provide a healthcare enterprise.
Premium hardware and software facilitating the gathering, reporting, and assessment of patient data are paramount for the successful export of data to a telemedicine platform.
High-performance computing infrastructure ensures that there is low latency for the application, while also guaranteeing top-level security for the data.
With networking firewalls, encryption, and cutting-edge tools for detecting cybercrime and fraud, PaaS data centers act as robust repositories for medical data.
PaaS can support the scaling up of big data environments of enterprise EMR systems by automating provisioning capacity and tuning clusters.
These tasks are usually time-consuming and not very cost-effective in a traditional on-premise setup. With PaaS-based EMR, the telemedicine software can run analysis on petabyte-scale data much faster.
EMR built on this model allows organizations to decouple the compute and storage functions. Each function is scaled separately across a tiered data cluster.
You can provision thousands of instances or containers to process data at any scale with these EMR systems on your telemedicine software.
ALSO READ: What is Hybrid Telehealth and Why is it the Future of Healthcare?
Balanced Telemedicine Innovation with PaaS
While scaling up your telemedicine software with PaaS, you must make sure that you are balancing well between the technological and service aspects of this innovation.
An accelerated time to market for your telemedicine solution, full integrations with your existing offerings, access to a sophisticated data center, and operational support are some of the advantages of PaaS.
However, when shifting to a PaaS model, you should make sure that you continually improve customer friendliness and quality of service. PaaS allows healthcare organizations to bridge the gaps in telemedicine with full infrastructural support at every stage.
For a better understanding of innovative telehealth solutions that are fast, smart, scalable, and secure, you can book a free consultation with our HealthIT expert.