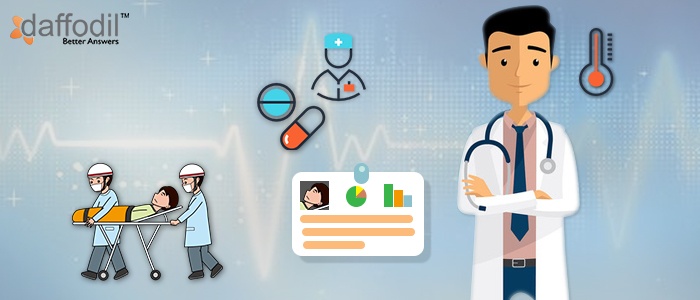 Let's imagine that one fine day you wake up as Captain America. An interesting proposition, isn't it? In all probability, you would be excited to protect the world from the baddies. But what happens if you discover that you don't have Captain America's cool shield that acts as his primary offensive and defensive weapon? Chances are that you would feel all at sea even while being a superhero. This just goes on to prove that having the nametag of a superhero and the intention to do good is not enough, you also need the right equipment to attain your objective. The same holds true for medical care providers. Just having a software solution for your medical or clinical practice is not enough. You need an EMR/EHR solution that ensures maximum efficiency so that you and your staff can concentrate on providing optimum health services to your patients. This article provides you an idea about the best practices for integrating EMR/EHR module with your healthcare solution.
1. Ensure effortless data sharing between systems
One of the primary objectives of having an EMR solution is to ensure that data is gathered and shared efficiently. To fulfil this objective, you must opt for an EMR solution that enables integration via interfaces between different systems. For instance, you would want your EMR solution to integrate with the billing system of your healthcare solution to enhance the efficiency of the whole arrangement. The biggest advantage of system integration is that it saves time. This leaves healthcare providers with more time on their hands to devote to patient care. Another thing to confirm is that the system should facilitate data sharing in real time and on demand.
2. Be sure of tracking patient medication information
An EMR solution must provide you with an efficient medication tracking feature. Healthcare facilities often deal with a number of patients on a daily basis. This makes it a difficult task to keep track of all the medications prescribed to the patients. A medication tracking feature will enable you to keep a track of the medicines prescribed to your patients and obtain that information instantly, whenever required. It will allow you to know at a glance if a prescribed medicine will interact or interfere with the other medicines being taken by the patient. It will also help you to determine whether the medicine will cause any allergic reaction in the patient.
3. Confirm advanced security aspects
As a healthcare provider, it is your responsibility to protect the sensitive, personal information of all your patients. No unauthorized person should be able to access the records which can lead to loss of privacy for your patients. When you opt for an EMR solution, it should ideally offer you with advanced security features that will safeguard sensitive information and patient records and make them accessible to only those who have the authorization to do so. The security features should enable you to authorize staff and establish their record-access limit based on their functions and designations. It should also allow you to keep track of who is accessing which records. This will help you to control document access in a smooth and easy manner.
4. Check for document scanning capabilities
Scanning of documents is an essential feature that must be present in your EMR solution. Every healthcare facility has its unique requirements as far as documentation is concerned. Document scanning enables custom workflows designed to cater to your facility's specific needs. With such a feature being present in your EMR solution, you will be able to forward essential supporting documentation to your billing staff, who can then complete further processing and submit the documents for reimbursement. This documentation scanning feature eliminates the necessity of obtaining, copying, or faxing documents. This reduces the risk of misplacing paperwork and delay in billing.
5. Look for electronic prescription feature
While selecting an EMR solution, make sure that it offers e-prescription facility. This feature allows doctors to write prescriptions electronically and provide the patient party with a printout of the same. While it saves time on part of the doctors, it helps patients to have a legible copy of the prescription that can be correctly provided by the pharmacy. As a healthcare provider, you can remain assured that your patients won't have to deal with handwritten prescriptions anymore. Moreover, they will be able to take their medications more efficiently because of the legible e-format of the prescription.
Your decision to integrate EMR with your healthcare solution will have a significant impact on the future functioning of your healthcare facility. If you select an effective EMR solution, you will be able to work faster, save time, and ensure better care for your patients.