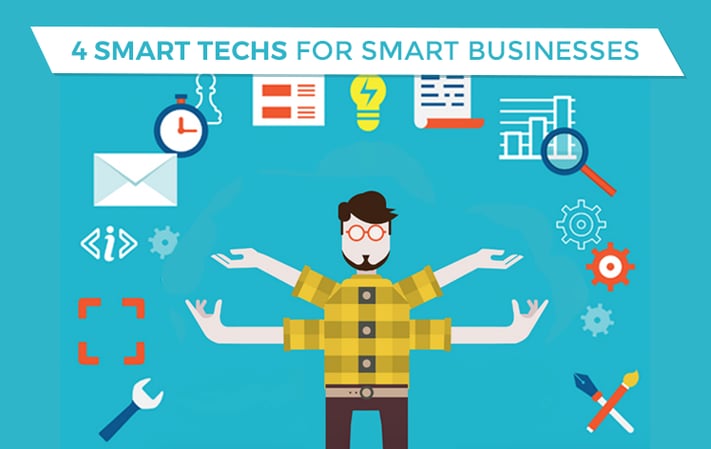 It is an exciting era of small and smart businesses that we live in, and to be successful you need to adapt to the changes and use all the tools at your disposal efficiently. This becomes all the more important when you decide to scale and your system needs to be robust and technologically compact to handle the change.
There's a lot to sift through when you have to pick the best technologies to help you run your business. We understand the onus and so we have listed down a few tech that are proving to be the crème de la crème of modern era technologies.
Mobile Management Apps
Whether you are selling carpets online or cutleries in physical stores, mobile apps that help you take care of business on the go are extremely helpful. It's a no-brainer that you should be able to complete payments when you're selling outside of your store. But you should also employ mobile apps that allow you to stay on top of business when you're not in front of your computer. These types of tools help give you more flexibility over your schedule and time, without losing business clairvoyance.
Modern POS systems
The payments landscape is evolving — swiftly. And you need to keep up by accepting the latest and most secure types of payment systems. This includes payment portals like PayPal, Skrill etc.
Modern POSs are cloud and tablet based, they facilitate mulit channel commerce to create an engaging shopping and purchasing experience. Modern POSs tilt the business in your favor as they integrate a rich and comprehensive system of anywhere purchase.
Technologies for Remote Workers
Outsourcing and contracting are becoming attractive ways to make business. Likely driven by the on-demand economy, America's outsourced jobs equals 2.38 million (2015 statistics) with India and China being the top beneficiaries.
It's a smart idea to suit up with technologies that allow you to work with people remotely. Management and collaboration tools like Asana can organize projects, to-do lists, conversations, meeting notes, and emails in a dashboard that keeps your team up to speed on projects. Real-time messaging apps like Slack can widen the bottleneck and keep conversations lucid. And scheduling apps like When I Work can help with timesheets, scheduling, and payroll.
Big Data
Big data was a term synonymous to big companies. This is not the scenario now. In recent time, small businesses have employed affordable solutions that have given them invaluable data-driven insights about their business. Big data tools can help you pull out reports and stats that can help you make crucial business decisions. You can assess and process your customer data and take new steps in understanding your customer and what it wants, which, in turn, can help you identify where to spend your marketing dollars.
The above technologies are causing a stir in the market, and the best companies are switching to top notch technologies and getting development experts on board, either through hiring or outsourcing.
But the funny thing about technology is that what sells now may repel later, it's like fashion, the trends of today are never the trends of tomorrow. But if you do not keep your present updated your future will always be facing the dark side of the sun.
I hope these insights prove handy to you and for more of such tech musings, be sure to sign up for our newsletter.