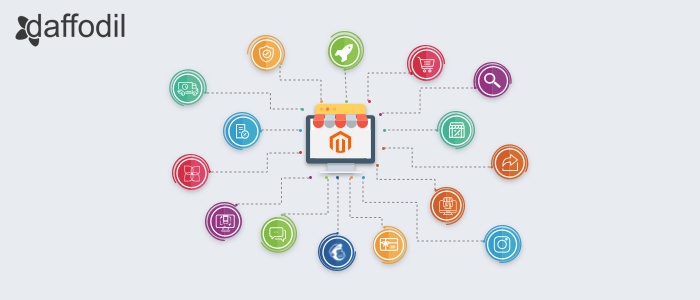 Magento is possibly the fastest growing platform in eCommerce space. According to Magento's 2017 yearly report, there was a spike in number of websites powered by Magento. What's more, major brands such as Burger King, Nike, Pepe Jeans and Samsung are choosing Magento to power their eCommerce websites.
Whilst Magento is packed with robust features and functionalities, the ability to extend it's core comes with Magento Extensions. Whether you want to accelerate your marketing or calculate sales tax, every aspect has an extension.
However, there are tons of Magento extensions and plugins in various categories such as payments and security, marketing, customer support etc. Hence, we have shortlisted top 15 extensions and plugins here, which are a must-have to scale up an eCommerce store.
Magento Extensions & Plugins
1. Update your Content in Real Time with Fastly CDN
Fastly is the first and only technology partner of Magento for content delivery networks (CDNs). It brings scalability to the Magento platform by delivering the entire storefront faster, absorbing traffic spikes and instantly updating content globally. Fastly also insures better site performance while delivering personalized content to online shoppers
2. Transform your 6-Page Checkout process into a One Page Checkout
Decrease cart abandonment rates with responsive one page checkout process, offered by this Magento extension. There are plenty of features offered by this extension which include: Ajax based loading, theme customization, payment gateways and much more. Hence, customers are ultimately benefited with mobile friendly design and faster loading speed.
3. Get Detailed Performance Report by installing Google Analytics Enhanced Ecommerce
Without analytics you can't measure the performance of your eCommerce business. Hence, this extension allows marketers to alter measurement tags without any intervention and to track product clicks, impressions, each checkout step, purchases etc. The extension is implemented through Google tag manager and is free of charge services offered by Google.
4. Simplify Sales Tax Returns with Sales Tax Automation
The Magento extension comes with quick installation and automated free sales tax calculations. You don't have to worry about monthly tax rates alterations as well as country and state-level sales tax rules as it supports more than 30 countries like Canada, US and European Union.
5. Serve your Users Better with LiveChat
The best part of LiveChat extension is that it comes with 30-day trial with no commitment to buy. It makes customer service more efficient with multiple features like automated personalized chat invites, multiple chat sessions, third-party app integration, visitors tracking, ticketing system and much more.
6. Allow Customers to Set their Preferred Delivery Date
Offer flexibility to customers by allowing them to select preferred delivery time and date on the checkout page. Moreover, this Magento extension enables you to block unavailable delivery dates on the calendar and thus eliminates the risk of unsatisfied deliveries.
7. Integrate Advanced Search Engines with Search Suite
While most of the eCommerce stores skip out this extension, it is the most important feature for a customer while shopping online. The search suite comes with plenty of benefits like integration with Sphinx, Solr and xSearch, advanced search accuracy options, search trend analyzation, search weight etc. to enhance the user experience.
8. Minimize Fraudulent Activities by Maxmind Fraud Prevention
Minimize risk and detect fraud with real-time fraud analysis and easy integration into your Magento store. It automatically holds orders having high risk scores and allows customization of score settings on various parameters.
9. Turn your Store into a Shoppable Gallery with Pixlee
Pixlee allows you to master over content marketing with its exciting and trendy features. Convert your visitors by displaying shoppable galleries, user-generated content, shoppable Instagram as well as keep track of customer insights with performance analytics.
10. Automate email marketing by installing Mailchimp
Used by 17 million eCommerce stores, Mailchimp is the leading platform for marketing automation. Create email campaigns and beautifully designed landing pages, signup forms and Facebook ads. Moreover, recapture lost sales with abandoned cart automation workflows and through customer segmentation based on purchase history.
11. Provide customers with flexible Aheadworks Gift Card
Add personalization and empathy to your eCommerce store with this gift card Magento extension. It generates physical, virtual and combined gift cards, and allows customers to tailor gift vouchers to their individual preference. In addition, admins can track which gift codes are active, remaining balance, expiration date etc.
12. Increase revenue by integrating Promo promotional banners
Increase your sales by making appealing offers to your buyers. The powerful sales motivation Magento extension helps you in creating customized promotional banners, targeting based on segmentation and maximum visibility with smart positioning on checkout.
13. Easily manage your orders with Efficient Order Export
This Magento extension comes with ample number of features for you to consider while managing order export. Create options to export newly created orders, change order status, send exported files by email, view export history etc. all under one module.
14. Integrate native mobile apps easily with Shopgate
With mCommerce leading its way in this digital environment, this extension helps to easily launch, maintain and quick market deployment of native apps and mobile websites. It comes with lots of features including real-time sync for product information, payments and order with an existing Magento account.
15. Increase social visibility by integrating Instagram Widget
Instagram popularity can transform an eCommerce store visibility and user experience. Display Instagram feed on your online store, with options to edit its description, title, widget mode, thumbnail size and number of posts.
Hope this gave you an idea of Magento extensions and plugins that will keep your eCommerce store at its best. Have any questions about Magento extension integration or custom extention development? Get in touch with our experts for a free 30-minute consultation to fully understand Magento development process.