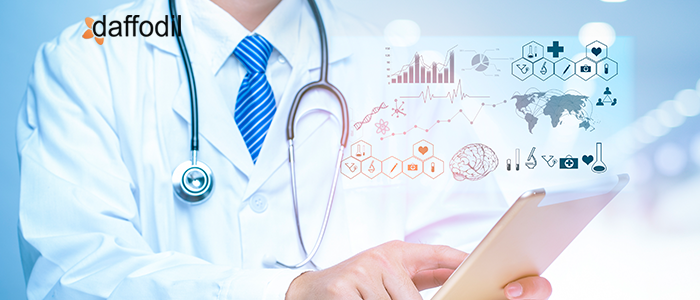 The COVID-19 pandemic has made healthcare providers realize the importance of digital solutions, more than ever. The providers are continuously struggling to reduce the burdens & risks associated with travel to clinics, hospitals, labs, or other healthcare organizations. Moreover, caregivers have to ensure the delivery of value-based care to patients in their home environments. The insurance reimbursements need to be streamlined. As a consequence of this demand, the digital healthcare market is projected to reach $500 billion by 2025.
Patient portals, telemedicine solutions, patient engagement platforms, EHR systems are some of the common and must-haves of a digitally powered healthcare system. These solutions are usually interconnected and their interoperability is what makes the entire system connected.
However, in a healthcare system, the integration of one solution with another is a challenge, especially when the Electronic Health Record (EHR) system is concerned. In the latter segment of this blog, we are going to discuss the importance of EHR, the challenges involved with its integration with other healthcare systems, and how to overcome them.
Understanding an EHR System and its Importance
An Electronic Health Record (EHR) is an electronic version of a patient's medical history. This includes a patient's demographics, medical history, test results, history of present illness (HPI), progress notes, medications, immunization, etc.
Commonly, an Electronic Health Record (EHR) is confused with the Electronic Medical Record (EMR). However, there is a difference between the two.
An EMR can be considered as a patient's chart which contains medical and treatment history from one practice. These details stay with one physician or provider and are usually not shared. In cases where the patient switches to another physician/provider, the medical details cannot be transferred. On the contrary, an EHR contains a patient's health information from a different doctor. In comparison to an EMR, an EHR provides a comprehensive view of a patient's medical history.
An Electronic Health Record (EHR) goes along with the patients and is shared amongst varied providers and physicians. Thus, an EHR helps to provide improved patient care and health outcomes.


An EHR provides all-inclusive access to a patient's data which helps physicians and providers make informed decisions regarding treatment.
An electronic health record plays an important role in intra- and inter-hospital patient transfers, which usually aims at improving the existing treatment of the patient. This may involve the transfer of a patient into a different facility for advanced care. In such cases, an electronic health record of patients helps in maintaining continuity of medical care. Since the transfer of patients may involve various physiological changes that may affect their treatment cycle, it is required that the treatment should initiate on the basis of health details provided by the previous facility.
Moreover, EHR integrations can be a big deal for healthcare researchers. For example, in the largest study of hospitalized COVID-19 patients in the US, researchers leveraged EHR data and discovered that hypertension, diabetes, and obesity are some of the common chronic diseases amongst the virus-infected patients.
Understanding EHR Interoperability & its Challenges
Depending upon what practices are performed at a medical facility, different types of EHR solutions are used. For example, there can be an EHR for small-to-mid-sized facilities such as walk-in clinics. Then, there can be mid-sized or large hospitals that offer extensive care to the patients and manage complex patient data, which includes details about medical imaging, labs, pharmacy, or emergency medicine/treatment, etc. The EHR solutions used by both types of medical facilities differ due to the set of features, clinical workflow, infrastructure requirements, etc.
A complex healthcare environment, such as a multi-specialty hospital requires diverse electronic health record (EHR) products. These products must be able to share the information seamlessly, which is possible by introducing interoperability in the care system.
EHR interoperability enables better workflows when data is shared amongst different care stakeholders. This is done by integrating the EHR systems together, enabling automatic access to the clinical information from within and outside the health system.
However, there are several technical and administrative challenges involved in integrating an EHR solution with other systems such as telemedicine solutions, patient portals, pathology reporting software, and even EHR solutions of other facilities. Let's understand these challenges in detail.
1. Unique Patient Identifier
The early days of EHR in the healthcare space had minimum (or no) standardization for identifying patients, storing data, or building care plans. Not having a unique patient identifier poses challenges in the exchange of medical information and patient health records efficiently.
Now, most healthcare organizations are using multiple information systems for gathering, tracking, and analyzing patient data, which further creates interoperability challenges. That is why, when planning for the healthcare data exchange system, make it a priority to standardize the process of patient identification.
2. Standardization of Information
Healthcare organizations follow different EHR standard formats. Thus, the kind of electronic information that they can exchange varies. To maintain integration standards, there are HL7 and FHIR(Fast Healthcare Interoperability Resources) standards that define the conventional data formats for information exchange in EHR systems.
Fast Healthcare Interoperability Resources (FHIR) is a standard that describes data formats & elements, APIs for exchanging health records. It uses the best of HL7 v2, HL7 v3, CDA, and leverages the best of web service technologies for standardization of health information to be shared. FHIR was created by Health Level Seven International (HL7), a healthcare standard organization.
FHIR is known to provide speed, high bandwidth, efficiency, and security when it comes to standardizing data, which further proves to be beneficial when it comes to real-time data exchange. However, in scenarios where the real-time exchange is not a requirement, HL7 2.0 and above is the accepted standard.
Therefore, to achieve healthcare data interoperability, it is important that healthcare organizations should follow standard data formats for seamless exchange of data.
3. Privacy and Security Challenges
To ensure secure data exchange, healthcare compliances such as HIPAA impose limitations on how the care organizations can exchange information with each other and with third-party entities. To ascertain that security compliances do not pose challenges during the exchange, health systems should put in place relevant HIPAA Business Associate Agreements (BAAs) to enable third-party integrations.
4. High Cost of Integration
Another reason why interoperability is a challenge in healthcare is the cost associated with the integration process. Traditional integration models are accessible only to large healthcare organizations. However, with new, affordable integration models available, mid-sized and small-sized organizations have the opportunity to opt for affordable integration strategies.
Apart from these technical, financial, and administrative challenges, there are various trust barriers, IT usability issues, and reporting barriers that limit successful EHR integration. However, with a strategic approach and technical assistance, it is possible to overcome these challenges and build a better healthcare data exchange system.
Overcoming Healthcare Interoperability Challenges
Integration challenges are going to persist. However, with the right tools and technologies around, it is possible to address and manage these obstacles.
There are a number of solutions that make EHR integration a seamless process for HCOs. However, to use them, you need the right technology partner that provides professional EHR integration services.
These services help in seamless healthcare data exchange between multiple health records systems (EHRs), clinical systems, and third-party applications. To know how they can be a help to your HCO in EHR integration, connect with health-tech experts via a 30-minutes free consultation session.