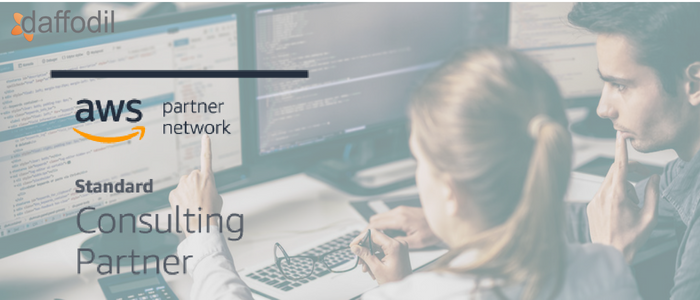 Daffodil Software, a global provider of software services attains accreditation from Amazon Web Services (AWS) as a Standard APN Consulting Partner.
Gurgaon, August 20, 2018: Today, Daffodil Software, a leading software services provider announced that it has been certified as a Standard APN Consulting Partner by AWS. The certification accredits Daffodil with technical proficiency and proven customer success with AWS solutions and cloud services.
Amazon Web Services (AWS) runs a number of competency programs that are designed to identify consulting and technology partners across the world, who can help businesses make the best of cloud services offered by AWS. APN Consulting Partners is one amongst them.
AWS Provider Network (APN) Consulting Partners are professional services firms that help customers of all sizes design, architect, migrate, or build new applications on AWS. Daffodil Software has achieved the certification after due evaluation and accreditations (AWS Business Professional, AWS Technical Professional, AWS Professional Services) that validates their expertise in understanding of AWS services and technical competency in cloud computing.
Daffodil has a strong team of AWS Accredited Architects and DevOps Experts who have managed more than 80+ cloud implementations. Also, the company has secured several accreditations that affirm their capabilities in DevOps, Managed Services, and Cloud.

Of the company's recent achievement, Yogesh Agarwal (CEO, Daffodil Software) said: "We have been helping our customers take full advantage of business benefits that AWS has to offer. Our technical and business professionals ensures that our customers get on their cloud adoption journey and achieve their business objectives. After this significant achievement, we are striving towards an improved firm level certification that will let us unlock advance AWS benefits. This will help us serve better to our customers and surely add value to their business."