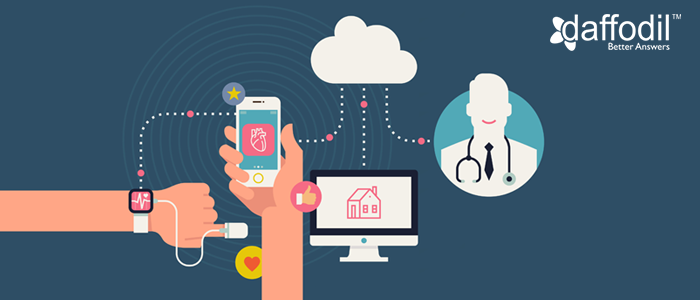 The adoption of mobile technology has grown exponentially in every aspect of our life. Just to put this in perspective, the number of mobile phones sold globally every day is much more than the number of babies born in a day. If a recent Millward Brown study is to be believed, people spend an average of 147 minutes a day on their smartphone and 91% of adults have their mobile device within their arm's reach 24*7.
Indubitably, the world is moving towards a mobile-only ecosystem. Recent developments in the wearable and AI technology have only added to the pace for the good. This disruptive power of mobile has forced almost every industry to revisit their business models and the healthcare industry was no novel to this transformation. It is predicted that the healthcare app development market will grow at a rate of 33% to a value of $59.15B by 2020.
Like social networking and shopping applications, healthcare apps have also become an imperative part of people's lives. There are more than 195,000 mhealth apps on Google play store and Apple itunes, says a study conducted by IMS Institute for Healthcare Informatics. The below graph shows responses of 144 healthcare leaders across the globe; working for the top healthcare and pharmaceuticals organizations; when asked about the key usages of mobile technology in healthcare for present healthcare applications.

And the same correspondents when asked about the usage of mobile technology in healthcare 5 years from now, made the following picture.

Clearly, there is going to be a shift from informational usage to participational usage in the next 5 years. Here are the 5 trends the healthcare industry is going to foresee in 2017 for sure; thanks to the mobile technology.
1. Rise of IoT technology in healthcare
AI and IoT are all set to take over the healthcare industry by a storm. Augmented sensory perception and bio-embedded sensors (planted under the skin) are poised to become the game changers in the mobile healthcare industry. Samsung has launched a major digital healthcare initiative where it intends to develop sensors for monitoring blood pressure, glucose levels and their vital signs through mobile devices. It also plans to validate those devices for commercial usage through an alliance with the University of California, San Francisco. Mobile devices for sure can now do much more than just track vital signs. The next giant leap will be to use mobile technology to perform lab tests and spot diseases. "We will be able to do blood tests, saliva tests, sweat and breath tests though a smartphone and detect diseases in a jiffy. This future is not far," says Dr Topol, Director of the Scripps Translational Science Institute.
2. Fall in healthcare infrastructure costs
Mobile apps have changed the way patients and doctors used to interact. The entire healthcare ecosystem has become more connected and accessible by means of mobile technology.This impacted the healthcare infrastructure in the developed countries. If Mobile devices will enable people to monitor their vitals, conduct tests, diagnose diseases and communicate remotely with their doctors, much of the healthcare infra will become potentially unnecessary. In developing countries, it would remove pressure from overloaded hospitals and consequently improve healthcare facilities
3. Increase in mobile-video content
Physicians and patients are viewing video content on the move for diagnostic and medicine prescribing reasons. If Google's screen to script research is to be believed, it states that physicians spend 3 hours per week viewing online videos for professional purpose. They follow sites such as Medscape, Patients Like Me etc. and are observing more patients sharing their videos, commenting and seeking expert advice; all through mobile devices.
4. Data Driven Healthcare solutions
Big data and analytics can make a significant impact on the mobile healthcare industry. As a forrester research quotes, "2Bn smartphones generate 150TB of raw data from built-in sensors like pedometers, accelerometers, cameras, and pulse trackers. This information when analyzed with big data tools can reveal phenomenal insights about user's health and their preferences. One recently formed alliance called Pittsburgh Health Data Alliance aims to fetch user health data from various sources (such as insurance records, medical records, wearable sensors data, and even genetic data) to create a comprehensive picture of the patient as an individual and offer custom healthcare packages as per the user's preferences.
5. Remote Monitoring
As per the US government data, 20% of the population lives in rural areas, however, only 9% of the physicians practice in rural areas. Remote monitoring systems have the potential to mitigate this situation and improve patient access. Significant efforts are being spent on making healthcare devices smaller compatible and powerful. Devices such as bio-embedded sensors, wearable sensors, and pacemakers will be integrated with mobile devices to monitor chronic conditions of the patients.suffering from, cardiovascular, neurological, and pulmonary diseases such as dysrhythmias, seizures, and hypertension.
Thoughts popping up in mind? Share them in the comments section below. Who knows it might turn out to be an interesting conversation.