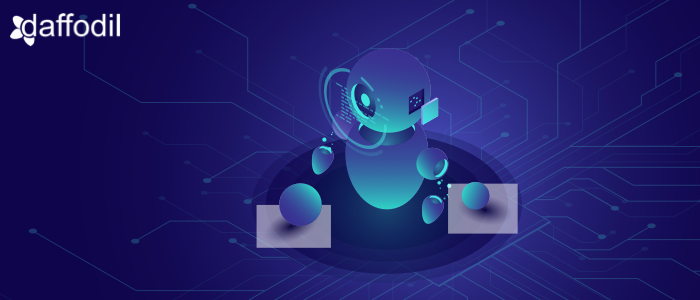 Quite similar to the software development cycle, robotic process automation (RPA) is a strategic approach to automation. It requires thorough planning, defining timelines, managing resources, understanding compliances, and a lot more. That is why, RPA is considered as a journey, which comprises of 4 major steps for its successful implementation.
This post discusses different stages of RPA implementation, which highlights the steps to synchronize and harmonize the resources to brings the desired results. Let's discuss an RPA cycle in detail.
Stage 1: Creating a Proof of Concept (PoC)
This first step gives a hint if the solution to be implemented is technically feasible or not. It enables organizations to shortlist tools, technologies, vendors, and controls to understand the right practices for execution. The phase helps to understand:
Which tool should be considered for automation?
Should we have an in-house team or choose an external vendor?
What kind of infrastructure will work best for the solution?
What are the rules and regulations that we need to comply with?
Do we need an automation tool or a scripting language will work?
These are some of the crucial questions that should be answered in the primary phase of RPA implementation. This basically a SWOT analysis wherein an organization examines its strengths and weaknesses in the execution of a process and discovers external opportunities and threats. For example, a company can check if they actually need to invest in commercial automation tools like Automation Anywhere, BluePrism or free/community versions like UiPath or WorkFusion will work for the type of solution to be created.
Once the tool and processes are acknowledged, a cost and benefit analysis should be performed to calculate the expected ROI from automation. For this, you can count on some of the factors like the duration for RPA implementation, examining if any other cost-effective technology exists as a substitute for RPA or how much profit does the process-to-be-automated will bring. On calculating these factors, organizations can switch to phase-2 of RPA implementation.
Stage 2: Run a Pilot Project
Just like we create a minimum viable product in software development, we should run a pilot project for RPA implementation which includes building a small end-to-end solution on production. Such practices inform about risks or mismanagement at the initial stage saving organizations from meeting the objective.
In this stage, internal and external stakeholders are involved who are surveyed for feedback. The input thus received lay down the basis for documenting the improvements required, areas of risk, and helps to revise the methodology and frameworks to build a stronger solution.
While running the pilot project, an organization has the chance to analyze the potential of the RPA partner, test the scripts/bot functioning, and see the solution design. Thus, running a pilot project is a significant and inevitable part of robotic process automation.
Stage 3: Bot Monitoring and Dry Run
One of the crucial stages of the RPA implementation journey is BOT monitoring once it is ready to get on production. During the RPA project implementation, it is important to review the BOT for its functionality, check if the log/notification mechanisms are effective. Successful implementation at this stage showcase the potential of RPA to a broader business audience. Also, before the bot starts to operate on production, the support and maintenance team should be active to handle any abrupt behavior of the bot.
Stage 4: Final Deployment
After the successful execution of the first three phases, the final output is likely to be positive. By this time, the bot should have complied with standard and organizational regulations, ensuring that automation does not impact other functionalities in the topology.
For one of its clients based out in India, Daffodil successfully automated the masking of ID numbers stored in the image format of 5 lakh customers with 98% accuracy. To know more, check out the full case study here.
RP on your Business Roadmap? We can Help!
Robotic Process Automation is one of the sought-after technologies today for automating complex business processes, thereby optimizing the cost and effort that goes into manual processing of tedious tasks.
We, at Daffodil, follow this 4-step RPA implementation process to ensure the successful execution of automation processes. If RPA technology is on your business's roadmap, then set-up a free consultation with our RPA experts who will analyze your business, discover areas where RPA can help, checks out the right tools and technologies for automation, run PoC & pilot projects for your business and more.
For your reference, here is a video illustrating how Daffodil helped one of the leading insurance companies to mask information from customer documents saved as image file.